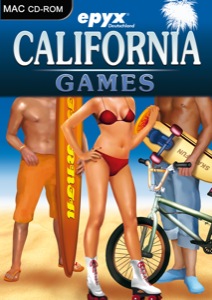 Products
epyx® Deutschland California Games (download): £8.55 (£8.99)
epyx® Deutschland California Games (Box): £19.99

System requirements:
Mac OS X 10.5
Mac OS X 10.7
1.5GHz G4
256MB RAM
GeForce 7300/Radeon 9600



Important: Does not work with macOS 10.15 (Catalina) and above

I agree with the
privacy policy
.
epyx® Deutschland California Games
Classic beach sports that will grab your attention
California games offers a retro look of the 80th and a modern design. It is possible to play alone against the computer or with up to 3 friends in multiplayer mode. Countries, starter, difficulty levels and controls are freely adjustable or selectable. A statistic shows your training progress and outcomes of the challenges. The controls are configurable individually for each player, no matter if you prefer the keyboard, mouse or joystick.

Where are you waiting for? Let's go to the virtual beach, into the sea, at the controls and enjoy the California feeling in a sporty environment.
Features:
Many different events
Play against the computer or against friends
Single and team competitions
Retro or modern visuals
Adjustable controls with up to 4 players at one Mac