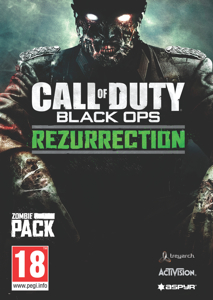 Products
Call of Duty: Black Ops Rezurrection Content Pack (download): £10.49
Call of Duty: Modern Warfare 2 Resurgence Pack (download): £10.99
Call of Duty: Modern Warfare 2 Stimulus Package (download): £10.99
Call of Duty: Modern Warfare 3 Collection 1 (download): £10.99
Call of Duty: Modern Warfare 3 Collection 2 (download): £10.99
Call of Duty: Modern Warfare 3 Collection 3 (download): £10.99
Call of Duty: Modern Warfare 3 Collection 4 (download): £10.99
Call of Duty: Modern Warfare 2 (download): £13.99
Call of Duty: Black Ops Annihilation & Escalation Content Pack (download): £17.49
Call of Duty 2 (Box): £7.99 (£19.99)
Call of Duty: Black Ops (download): £29.99
Call of Duty 4 (Box): £9.99 (£29.99)
Call of Duty: Modern Warfare 3 (download): £29.99
Call of Duty: Black Ops (Box): £9.99 (£34.99)

System requirements:
Mac OS X 10.7
2.4GHz Intel Mac Core Duo
15GB HDD
4096MB RAM
Radeon HD3870
NOTICE: All NVIDIA graphic cards including the most recent MacBook Pro's with the Nvidia 650M graphics card are UNSUPPORTED!!! Please visit http://support.aspyr.com for more information.
Supported Video Cards: ATI Radeon HD 3870, HD 4670, HD 4850, HD 5670, HD 5750, HD 5770, HD 5870, HD 6490, HD 6750
NOTICE: We do not recommend that you play Call of Duty: Black Ops on any of the following unsupported graphic chipsets: HD3000 (2011 Mac Mini, 2011 MacBook Air, 2011 13" MacBook Pro) HD4000 (2012 13" MacBook Pro), ATI Radeon HD 2000 series, HD 4670, HD6630M, NVIDIA 8000 & 9000 series, GT100 series, 320M, 330M, Intel Integrated GMA950, x3100
NOTICE: Internet connection required for Multiplayer and Zombies.
NOTICE: Apple Intel Chipsets only. Power PC Processors (G4 and G5) are not supported.
NOTICE: This game is not supported on volumes formatted as Mac OS Extended (Case Sensitive)



Important: Does not work with macOS 10.15 (Catalina) and above

I agree with the
privacy policy
.
Call of Duty: Black Ops Rezurrection Content Pack
Lift off into an epic Zombie experience!
Old school Zombie strategies get blown out of the airlock in "Moon," where armed with new perks and a space-age arsenal of weapons, our heroes must overcome undead astronauts and fluctuating gravity as they unearth conspiracies that began in 1943.

Rounding out Rezurrection are the 4 maps that spawned the Zombie phenomenon: "Nacht der Üntoten," "Verrückt," "Shi No Numa" and "Der Riese."
Features:
The all new Moon level
Four re-mastered levels of Zombie lore: Nacht der Üntoten, Verrückt, Shi No Numa and Der Riese, the Zombie factory that started it all
An enhanced Zombies Soundtrack including, three tracks never before available for purchase
A new Zombies Moon theme
© 2010-2012 Activision Publishing, Inc. ACTIVISION, CALL OF DUTY and CALL OF DUTY BLACK OPS are trademarks of Activision Publishing, Inc. The ratings icon is a registered trademark of the Entertainment Software Association. This product contains software technology licensed from Id Software ("Id Technology"). Id Technology ©1999-2012 Id Software, Inc. Published and distributed by Aspyr Media, Inc. "Aspyr" and the Aspyr "star" logo are federally registered trademarks of Aspyr Media, Inc. Aspyr makes no guarantees regarding the availability of online play, and may modify or discontinue online service in its discretion without notice, including for example, ceasing online service for economic reasons due to a limited number of players continuing to make use of the service over time. Mac and the Mac logo are trademarks of Apple Computer, Inc., registered in the U.S. and other countries. The ratings icon is a trademark of the
Entertainment Software Association. All other marks and trademarks are the property of their respective owners. All rights reserved.

Purchasing from our store will provide a download code redeemable through the Steam client.