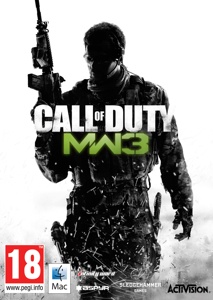 Products
Call of Duty: Black Ops Rezurrection Content Pack (download): £10.49
Call of Duty: Modern Warfare 2 Resurgence Pack (download): £10.99
Call of Duty: Modern Warfare 2 Stimulus Package (download): £10.99
Call of Duty: Modern Warfare 3 Collection 1 (download): £10.99
Call of Duty: Modern Warfare 3 Collection 2 (download): £10.99
Call of Duty: Modern Warfare 3 Collection 3 (download): £10.99
Call of Duty: Modern Warfare 3 Collection 4 (download): £10.99
Call of Duty: Modern Warfare 2 (download): £13.99
Call of Duty: Black Ops Annihilation & Escalation Content Pack (download): £17.49
Call of Duty 2 (Box): £7.99 (£19.99)
Call of Duty: Black Ops (download): £29.99
Call of Duty 4 (Box): £9.99 (£29.99)
Call of Duty: Modern Warfare 3 (download): £29.99
Call of Duty: Black Ops (Box): £9.99 (£34.99)

System requirements:
Mac OS X 10.9
2.2GHz Intel Mac Core Duo
13GB HDD
4096MB RAM
512MB VRAM
ATI Radeon HD 4850 or better, Nvidia 640M or better, Intel Iris or better
The following video chipsets are unsupported: ATI RADEON HD 2000 series, ATI RADEON HD 6490M, 6630M, 3870. NVIDIA 9000 series, NVIDIA 320M, 330M, Intel HD 3000, 4000, 5000
Other Requirements: Initial installation requires one-time Internet connection for Steam authentication; software installations required (included with the game) include Steam Client.
Internet Connection and acceptance of Steam™ Subscriber Agreement required for activation. See



Important: Does not work with macOS 10.15 (Catalina) and above

I agree with the
privacy policy
.
Call of Duty: Modern Warfare 3
The best-selling first person action series of all time returns with the epic sequel to multiple "Game of the Year" award winner, "Call of Duty®: Modern Warfare® 2." In the world's darkest hour, are you willing to do what is necessary? Prepare yourself for a cinematic thrill-ride only Call of Duty® can deliver. The definitive Multiplayer experience returns bigger and better than ever, loaded with new maps, modes and features. Co-Op play has evolved with all-new Spec-Ops missions and leaderboards, as well as Survival Mode, an action-packed combat progression unlike any other.