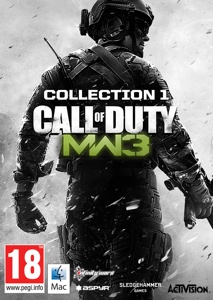 Products
Call of Duty: Black Ops Rezurrection Content Pack (download): £10.49
Call of Duty: Modern Warfare 2 Resurgence Pack (download): £10.99
Call of Duty: Modern Warfare 2 Stimulus Package (download): £10.99
Call of Duty: Modern Warfare 3 Collection 1 (download): £10.99
Call of Duty: Modern Warfare 3 Collection 2 (download): £10.99
Call of Duty: Modern Warfare 3 Collection 3 (download): £10.99
Call of Duty: Modern Warfare 3 Collection 4 (download): £10.99
Call of Duty: Modern Warfare 2 (download): £13.99
Call of Duty: Black Ops Annihilation & Escalation Content Pack (download): £17.49
Call of Duty 2 (Box): £7.99 (£19.99)
Call of Duty: Black Ops (download): £29.99
Call of Duty 4 (Box): £9.99 (£29.99)
Call of Duty: Modern Warfare 3 (download): £29.99
Call of Duty: Black Ops (Box): £9.99 (£34.99)

System requirements:
Mac OS X 10.9
2.2GHz Intel Mac Core Duo
13GB HDD
4096MB RAM
512MB VRAM
ATI Radeon HD 4850 or better, Nvidia 640M or better, Intel Iris or better
The following video chipsets are unsupported: ATI RADEON HD 2000 series, ATI RADEON HD 6490M, 6630M, 3870. NVIDIA 9000 series, NVIDIA 320M, 330M, Intel HD 3000, 4000, 5000
Other Requirements: Initial installation requires one-time Internet connection for Steam authentication; software installations required (included with the game) include Steam Client.
Internet Connection and acceptance of Steam™ Subscriber Agreement required for activation. See



Important: Does not work with macOS 10.15 (Catalina) and above

I agree with the
privacy policy
.
Call of Duty: Modern Warfare 3 Collection 1
Redeploying with an arsenal of content unlike any in franchise history, Call of Duty®: Modern Warfare® 3's first downloadable "Collection" arrives stockpiled with not only four Multiplayer/Survival Mode Maps, but two Special Ops Missions--the first time Call of Duty® has ever made Special Ops downloadable online.

Armed with just this one content pack, players can choose between heading to a militarized Central Park in Liberation, destroying scenic vistas in a seaside Italian getaway in Piazza, raining glass on New York passersby from 70-stories-up in Overwatch, and battling beside a downed Air Force One in Black Box.

As if that breadth of multiplayer variety wasn't enough, fans of Special Ops can hop aboard snowmobiles to infiltrate a diamond mine in Black Ice or head to India, where Negotiator will leave the fate of hostages in their hands.

In a class of its own with half-a-dozen forms of content, Modern Warfare® 3's first downloadable "Collection" offers a range of combat and co-op the likes of which has never been seen before