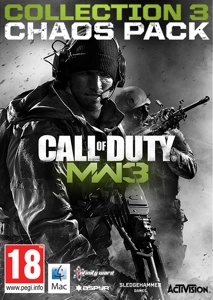 Products
Call of Duty: Black Ops Rezurrection Content Pack (download): £10.49
Call of Duty: Modern Warfare 2 Resurgence Pack (download): £10.99
Call of Duty: Modern Warfare 2 Stimulus Package (download): £10.99
Call of Duty: Modern Warfare 3 Collection 1 (download): £10.99
Call of Duty: Modern Warfare 3 Collection 2 (download): £10.99
Call of Duty: Modern Warfare 3 Collection 3 (download): £10.99
Call of Duty: Modern Warfare 3 Collection 4 (download): £10.99
Call of Duty: Modern Warfare 2 (download): £13.99
Call of Duty: Black Ops Annihilation & Escalation Content Pack (download): £17.49
Call of Duty 2 (Box): £7.99 (£19.99)
Call of Duty: Black Ops (download): £29.99
Call of Duty 4 (Box): £9.99 (£29.99)
Call of Duty: Modern Warfare 3 (download): £29.99
Call of Duty: Black Ops (Box): £9.99 (£34.99)

System requirements:
Mac OS X 10.9
2.2GHz Intel Mac Core Duo
13GB HDD
4096MB RAM
512MB VRAM
ATI Radeon HD 4850 or better, Nvidia 640M or better, Intel Iris or better
The following video chipsets are unsupported: ATI RADEON HD 2000 series, ATI RADEON HD 6490M, 6630M, 3870. NVIDIA 9000 series, NVIDIA 320M, 330M, Intel HD 3000, 4000, 5000
Other Requirements: Initial installation requires one-time Internet connection for Steam authentication; software installations required (included with the game) include Steam Client.
Internet Connection and acceptance of Steam™ Subscriber Agreement required for activation. See



Important: Does not work with macOS 10.15 (Catalina) and above

I agree with the
privacy policy
.
Call of Duty: Modern Warfare 3 Collection 3
With its third DLC Collection, Modern Warfare® 3 drops a combat-heavy care package of Special Ops Chaos mode, 4 new Special Ops missions, and 3 Face Off maps for the ultimate trifecta in solo and co-op gameplay. High-altitude Special Ops challenges put tactical skills to the test, with players navigating armed drones above a Russian destroyer and evading RPGs from the roof of a helicopter-swarmed hotel. Upping the ante further, Face Off firefights pit players head-to-head on a six-lane stretch of desert highway, at an abandoned crossroads near a New York overpass, and near the path of a violent tornado.

Game Mode
- Special Ops Chaos Mode: A whole new way to play Call of Duty®, Special Ops Chaos mode delivers the ultimate in arcade mayhem. Experience truly heart-pounding and adrenaline-fueled action while competing for high scores in Resistance, Village, Underground and Dome. Chain kills together against a never-ending onslaught of enemies to increase your combo multiplier and earn performance enhancing perks. Choose your route through each map to optimize weapon pickups, attack, and escape options. Play solo, split screen or online with a friend to take out as many enemies as possible before they take you down or the clock hits zero.
- Face Off - Intersection: A New York bridge overpass provides the backdrop for this all-new "Face Off" map in which an ultra-condensed 2-block battle zone allows players to fight on the first and second floors of surrounding apartments and bombed-out bodegas.
- Face Off - U-turn: A bombed-out, gridlocked highway provides a perfect backdrop for combatants on this all-new "Face Off" map, where oil fields burn black high above six-lanes' worth of abandoned cars, buses and paths for attack.
- Face Off - Vortex No storm shelter can keep you safe in "Vortex," the all-new "Face Off" map that places you just outside the danger zone of a devastating tornado.
- Special Ops Mission - Arctic Recon: Requiring surgical precision by air, land, and sea, this new Special Ops mission tasks you with destroying a Russian battleship by planting beacons for an air strike. Take control of a recon helicopter to reveal the beacon locations before fighting off forces on the ground to ensure the ship never leaves port.
- Special Ops Mission - Vertigo: The luxurious "Oasis" hotel in Dubai hosts the latest Special Ops mission, in which players must use laser-guided RPG's to dispatch waves of helicopters. Utilize rooftop advantage to defend from waves of enemies, before parachuting to a ground-level exfil point.
- Special Ops Mission - Light 'em up: A VIP has been captured and detained within Makarov's castle, and it's up to you to breach the fortress and get him out. Take control of a small helicopter, secure the hostage, and evacuate before dawn's first light in this new Special Ops mission.
- Special Ops Mission - Special Delivery: Deep behind enemy lines, an allied flight crew helplessly awaits their fate at a nearby crash site. Pairing up a soldier on the ground and a helicopter gunner equipped with care packages, the Special Ops mission objective is to overcome the enemy resistance and rescue the allied crew.