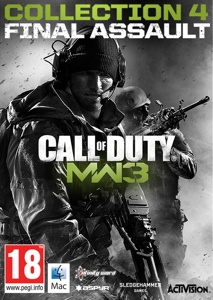 Products
Call of Duty: Black Ops Rezurrection Content Pack (download): £10.49
Call of Duty: Modern Warfare 2 Resurgence Pack (download): £10.99
Call of Duty: Modern Warfare 2 Stimulus Package (download): £10.99
Call of Duty: Modern Warfare 3 Collection 1 (download): £10.99
Call of Duty: Modern Warfare 3 Collection 2 (download): £10.99
Call of Duty: Modern Warfare 3 Collection 3 (download): £10.99
Call of Duty: Modern Warfare 3 Collection 4 (download): £10.99
Call of Duty: Modern Warfare 2 (download): £13.99
Call of Duty: Black Ops Annihilation & Escalation Content Pack (download): £17.49
Call of Duty 2 (Box): £7.99 (£19.99)
Call of Duty: Black Ops (download): £29.99
Call of Duty 4 (Box): £9.99 (£29.99)
Call of Duty: Modern Warfare 3 (download): £29.99
Call of Duty: Black Ops (Box): £9.99 (£34.99)

System requirements:
Mac OS X 10.9
2.2GHz Intel Mac Core Duo
13GB HDD
4096MB RAM
512MB VRAM
ATI Radeon HD 4850 or better, Nvidia 640M or better, Intel Iris or better
The following video chipsets are unsupported: ATI RADEON HD 2000 series, ATI RADEON HD 6490M, 6630M, 3870. NVIDIA 9000 series, NVIDIA 320M, 330M, Intel HD 3000, 4000, 5000
Other Requirements: Initial installation requires one-time Internet connection for Steam authentication; software installations required (included with the game) include Steam Client.
Internet Connection and acceptance of Steam™ Subscriber Agreement required for activation. See



Important: Does not work with macOS 10.15 (Catalina) and above

I agree with the
privacy policy
.
Call of Duty: Modern Warfare 3 Collection 4
Saluting Modern Warfare® 3's Season of Content, the fourth and final DLC collection deploys with five all-new Multiplayer Maps. Surrounded by mountains, "Gulch" sends combatants into a forgotten mining town with only mine shafts and equipment sheds for cover. The Jersey coast awaits in "Boardwalk," where fun in the sun means facing enemies on the beach. Players must earn their sea legs in "Off Shore" and "Decommission," where deadly oceanic oil rigs and a maze of rotting ocean liners provide the perfect setting for shoreline-based combat. Rounding out the collection is a trip to New Orleans' war-torn French Quarter, where "Parish" pits players against one another amid the city's rubble.

- Decommission: A graveyard of rotting ocean liners has not only given birth to a shantytown of locals, but a mid-sized Multiplayer Map populated in choke points; providing the perfect setting for shoreline-based combat.
- Off Shore: Trapped on an oil rig in the middle of the ocean, you have nowhere to go but directly at your enemies in this new Multiplayer map boasting helipads, cranes, and countless perches for snipers eager to pick off the competition. Did we mention to look down or else you may fall off?
- Gulch: Decades after fires charred this forgotten mining town, the red rock canyon gains new shades of red as a mid-sized Multiplayer Map in which the surrounding mountains, mine shafts, and equipment sheds craft a perfect setting for combat.
- Boardwalk: Head to the Jersey Coast for a sunny afternoon of boardwalk-based Multiplayer battle in which you'll face your enemies on the beach and fight for dominance at the arcade while still finding time to cut the line at the roller coaster.
- Parish: Wishful thinking won't keep you safe in New Orleans' war-torn French Quarter, where a local bombed-out parish plays host to a smaller-sized Multiplayer Map well suited for those who want to run-and-gun amid the city's rubble.