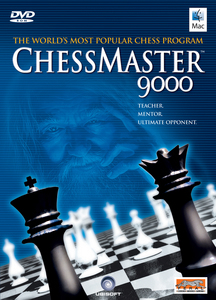 Products
Chessmaster 9000 (Box): £19.99

System requirements:
DVD drive
Mac OS X 10.2
700MHz G3
1.3GB HDD
256MB RAM
16MB VRAM



Important: Does not work with macOS 10.15 (Catalina) and above

I agree with the
privacy policy
.
Chessmaster 9000
New improved Chess engine - 150 opponents, beginner to Grandmaster
Discover the fun of mastering the game of chess in the latest edition of the best-selling chess brand available. Chessmaster 9000 is not only the most fun you'll have playing chess, it's also the most comprehensive chess program available and the only one that will improve your level of play. Learn how to master your opponent, how to find the best moves, and how to shut out distractions. Improve your play immediately with the new Blunder Alert feature. Test your skills with the new Endgame Quiz from US Chess Champion and Grand Master, Larry Evans. Chessmaster 9000 will be your teacher, mentor, and ultimate opponent.
Features:
Smart, popular chess software
Learn how to play like a master
Incredible 3-D sets, boards, and backgrounds
Tons of features to improve learning
For 1 or 2 players