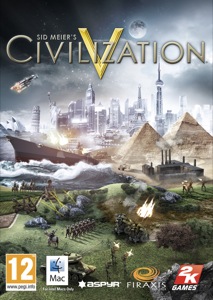 Products
Civilization V (Box): £9.99 (£19.99)
Civilization V: Gods and Kings Expansion Pack (download): £18.95 (£19.99)
Civilization V: Brave New World (download): £19.99
Civilization V Gold Edition (download): £34.99
Civilization V: Game Of The Year Edition (Box): £19.99 (£34.99)
Civilization V: The Complete Edition (Download): £34.99

System requirements:
DVD drive
Mac OS X 10.6
Mac OS X 10.7
2.4GHz Intel Mac Core Duo
GeForce 8600/Radeon HD2600 256MB VRAM
Supported Video Cards:
NVIDIA GeForce® 8600, 8800, 9600M, GT 120, 320M, 330M
ATI Radeon HD 2600, HD 3870, HD 4670, HD 4850, HD 5670, HD 5750, HD 5770, HD 5870, HD 6490, HD 6750
Other Requirements: Initial installation requires one-time Internet connection for Steam authentication; software installations required (included with the game) include Steam Client.
Internet Connection and acceptance of Steam™ Subscriber Agreement required for activation. See www.steampowered.com/agreement for details
I agree with the
privacy policy
.
Civilization V
Civilization 5 - A legendary franchise reborn
Sid Meier's Civilization® V is the fifth offering in the multi-award winning Civilization strategy game series featuring the famous "just one more turn" addictive gameplay that has made it one of the greatest game series of all time.

With over nine million units sold worldwide, and unprecedented critical acclaim from fans and press around the world, Sid Meier's Civilization® is recognized as one of the greatest strategy franchises of all-time. This incredibly fun and addictive strategy game is takien to unprecedented heights by adding new ways to play and win; new tools to manage and expand your civilization; extensive modding capabilities; and intensely competitive multiplayer options. Civilization V comes to life in a beautifully detailed, living world elevating the gameplay experience to a whole new level making it a must-have for gamers around the globe!

In Civilization V, players strive to become Ruler of the World by establishing and leading a civilization from the dawn of man into the space age, waging war, conducting diplomacy, discovering new technologies, going head-to-head with some of history's greatest leaders and building the most powerful empire the world has ever known.

Civilization V takes this definitive strategy game series in new directions with the introduction of hexagonal tiles allowing for deeper strategy, more realistic gameplay and stunning organic landscapes for players to explore as they expand their empire. The brand new engine delivers a spectacular visual experience that brings players closer to the Civ world than ever, featuring fully animated leaders interacting with players from a screen-filling diplomatic scene and speaking in their native language for the first time. Wars between empires feel massive, as armies dominate the landscape and combat is more exciting and intense than ever before. The addition of ranged bombardment allows players to fire weapons from behind the front lines, challenging them to develop clever new strategies to guarantee victory on the battlefield. In addition to the new gameplay features debuting in Civilization V, an extensive suite of community, modding and multiplayer elements will also be available.
Features:
Believable World: More than just a strategy game -- the expanded visuals and immersive audio invite would-be kings to take up the reigns of power and forge a mighty empire.  Civilization V offers a limitless variety of vast, realistic and diverse landscapes for players to explore, battle over and claim as their own.
Inviting Presentation: An intuitive interface eases both new players and Civ veterans into the game. Guided by a set of trusted advisors who will explain game functionality and provide counsel for significant decisions, even first-time players will be confident in the choices they make.
Huge Battles: Combat is more exciting and engaging than ever before. Wars between empires feel massive with armies spreading across the landscape. The addition of ranged bombardment allows players to fire weapons from behind the front lines, challenging players to develop clever new strategies to guarantee victory on the battlefield.
Live History:  Write your own epic story each time you play! Choose one of eighteen historical civilizations to lead from the stone-age to the space age on your quest to build the world's most powerful empire.
Improved Diplomacy: Negotiate with some of history's most cunning rulers, each with a well-crafted plan for victory. Successful diplomacy will depend on players carefully managing relationships with other leaders, trading items, plying them with gold, and deciding if they are friend or foe. City States will present a new diplomatic battleground on which the major powers of the world will vie for supremacy.
In-Game Community Hub: Compete with Civ players from all over the globe via the Internet and Play by Email, or compete locally in Hotseat and LAN matches, offering endless ways to rule the world. The game itself now serves as the hub of community activity, featuring the ability to share scenarios, compare scores, brag about achievements and visit one of the thriving Civ fansites without leaving the game. It's now easier than ever for players to become involved in the global Civ Community.
Modability: With unprecedented modding tools, players will have unlimited options for modifying Civilization V any way they like.