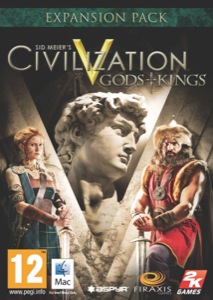 Products
Civilization V (Box): £9.99 (£19.99)
Civilization V: Gods and Kings Expansion Pack (download): £18.95 (£19.99)
Civilization V: Brave New World (download): £19.99
Civilization V Gold Edition (download): £34.99
Civilization V: Game Of The Year Edition (Box): £19.99 (£34.99)
Civilization V: The Complete Edition (Download): £34.99

System requirements:
Mac OS X 10.6
Mac OS X 10.7
2.4GHz Intel Mac Core Duo
8GB HDD
2048MB RAM
256MB VRAM
Requires Sid Meier's Civilization V to be installed
Supported Video Cards: NVIDIA GeForce® 8600, 8800, 9600M, GT 120, 320M, 330M. ATI Radeon HD 2600, HD 3870, HD 4670, HD 4850, HD 5670, HD 5750, HD 5770, HD 5870, HD 6490, HD 6750. Intel HD 3000
Other Requirements: Initial installation requires one-time Internet connection for Steam authentication; software installations required (included with the game) include Steam Client. Internet Connection and acceptance of Steam™ Subscriber Agreement required for activation. See www.steampowered.com/agreement for details
I agree with the
privacy policy
.
Civilization V: Gods and Kings Expansion Pack
Gods and Kings - The first expansion pack for Civilization V
Sid Meier's Civilization V: Gods and Kings is the first expansion pack for Civilization V - the critically acclaimed 2011 Mac Game of the Year. This robust expansion covers the entire scope of time from founding your first Pantheon of the Gods and spreading religion across the world, to deploying your spies in enemy cities in order to steal information and technology. As you move through the ages, you'll interact with new types of city-states, engage in new city-state quests and global competitions, and master exciting new systems for land and naval combat. Civilization V: Gods and Kings will also include nine new civilizations, nine new wonders, three original scenarios, and dozens of new units, buildings, and techs that will offer even more ways for players to expand their empire and dominate the world.
Features:
Expanded Epic Game: The core game experience has been greatly expanded with the addition of 9 new civilizations, new technologies, 27 new units, 13 new buildings, and 9 new Wonders.
Religion: A righteous people will seek out Faith to found a Pantheon of the Gods. As your Faith becomes stronger, you can cultivate Great Prophets who build on these simple beliefs to create a religion that you can customize and enhance as desired.
Enhanced Diplomacy and Espionage: Establish embassies at foreign courts for closer ties (or clandestine operations).
Naval Combat: Your navy is now split into two different ship types, melee and ranged. This means that no coastal city should be considered safe, and can now fall to a surprise naval attack.
World Domination: The fight for world domination is now more dynamic than ever before. The Gods and Kings expansion features a reworked combat system and AI that puts more emphasis on a balanced army composition.