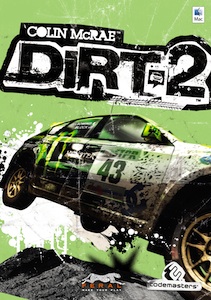 Products
Colin McRae DiRT 2 (Box): £13.99

System requirements:
DVD drive
Mac OS X 10.6
2GHz Intel Mac Core Duo
8GB HDD
2048MB RAM
128MB VRAM
The following cards are NOT supported: ATI X1xxx series, NVIDIA 7xxx series and Intel GMA series.
Download version does not require a DVD drive.



Important: Does not work with macOS 10.15 (Catalina) and above

I agree with the
privacy policy
.
Colin McRae DiRT 2
Classy rally action for the Mac - over 300 different competitions!
The King of off-road racing returns to the Mac!

Take on the world in 9 stunning locations and 100+ thrilling events across the globe. DiRT 2 combines eye-popping extreme motor sports with classic rally events in a wheel-spinning, nerve-jangling package that's the most fun you can have on four wheels and a Mac.


DiRT 2 is based around a career mode. Play as a rookie determined to make your name in off-road racing. Start off in fledgling events and race your way up to mix it with the pros in the X Games.
Master up to eight different racing disciplines in a rich mix of arcade-style and simulation that combine to create a challenging, but always accessible experience. From London's iconic Battersea Power Station to the Malaysian Jungle and the Utah Desert, racers are immersed in beautifully realised environments each with their own distinctive driving terrains.
With fantastic locations, a wide array of events and superb car handling, DiRT 2 sets a new standard for racing games on the Mac.
Features:
Career mode - a satisfying progression from fledgling rookie to hotshot pro.
Flashback mode - allows you to rewind your race to just before that critical error and play it again.
Eight different racing disciplines.
Thirty-five customisable vehicles to drive - set-up the handling and liveries to suit your style.
Flexible multiplayer - compete against seven other players in ranked tours or custom events.
Sophisticated opponent AI - presents a satisfying level of challenge on any difficulty.
9 exotic locations - Morocco, Malaysia, Baja California, LA, Utah Desert, Croatia, China, Downtown Tokyo, Battersea London.
Take part in the world famous X Games Competitions in Europe, Asia and America.
© 2009-2011 The Codemasters Software Company Limited ("Codemasters"). All rights reserved. "Codemasters"® and the Codemasters logo are registered trademarks owned by Codemasters. "DiRT"™, "DiRT 2"™ and "EGO"™ are trademarks of Codemasters. All other copyrights or trademarks are the property of their respective owners and are being used under license. This game is NOT licensed by or associated with the FIA or any related company. Unauthorized copying, adaptation, rental, lending, re-sale, arcade use, charging for use, broadcast, cable transmission, public performance, distribution or extraction of this product or any trademark or copyright work that forms part of this product is prohibited. Mac and the Mac logo are trademarks of Apple Inc., registered in the U.S. and other countries. Feral and the Feral logo are trademarks of Feral Interactive Ltd.