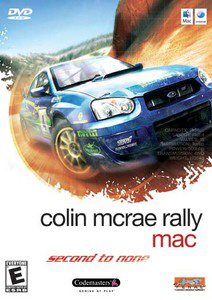 Products
Colin McRae Rally Mac (Box): £19.99

System requirements:
DVD drive
Mac OS X 10.4.0
1.7GHz G4
4.3GB HDD
512MB RAM
3D graphics card 128MB VRAM



Important: Does not work with macOS 10.15 (Catalina) and above

I agree with the
privacy policy
.
Colin McRae Rally Mac
Classy rally action for the Mac - over 300 different competitions!
Colin McRae Rally Mac is the most complete and rewarding racing experience for the Macintosh. Choose from a wide assortment of cars and prepare to be pummelled through a staggering 300+ race tracks featuring unparalleled detail and visual splendour. Incredible detail: An individual damage model for each car - right down to paintwork scratches and a dazed visual effect as you recover from a crash! Panels and components are deformable and can be removed in a realistic manner, showing the mechanical components of the car in extreme detail. The bonnet cam is present for all those who like to gaze down over a pristine engine cover, or the painstakingly detailed under-bonnet engine models. The core of the game is the non-linear, multi-discipline Career Challenge. Start out in the lower leagues of club rallying and learn your craft As well as the Career challenge, you'll be able to jump straight into a 4WD championship, take on a single rally or individual stage, and then take on the world in online rallies with up to 8 players in over 20 different classes of rally events. Drive the most diverse selection of cars through more than 300 tracks in 9 worldwide locations. 9 international locations (new German rally joins events through UK, Sweden, USA, Finland, Australia, Spain, Greece, and Japan) in Rally game mode, each with 8 stages and variable weather conditions. Large, animated spectator crowds cheer you on through the stages. Each stage features interactive scenery, so if you push too hard and hit a tree, you'll see it shudder from the impact and drop leaves from the branches.
Features:
300 stages of competition
20 event classes
Multiple challenges, supercups and championships
Variety of car classes
Online multiplayer up to 8 people