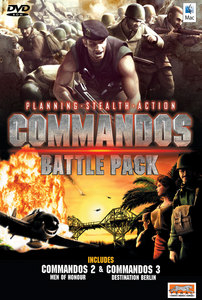 Products
Commandos Battlepack (Box): £12.49

System requirements:
DVD drive
Mac OS X 10.2
867MHz G4
2.6GB HDD
256MB RAM
3D graphics card 32MB VRAM

I agree with the
privacy policy
.
Commandos Battlepack
Planning. Stealth. Action
Planning. Stealth. Action

The Commandos Battle Pack brings together two games from . Commandos 2: Men of Courage and Commandos 3: Destination Berlin.

In both games, you take control of an elite group of Commandos as they venture deep into enemy territory to carry out the most daring missions of World War II. Your squad must use their combined skills to confound the enemy and accomplish operations vital to the outcome of the war.

The Commandos are the best the Allies have... are you good enough to lead them?