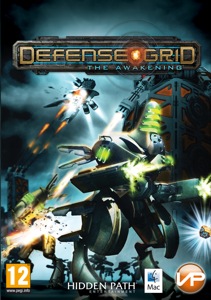 Products
GRID™ (Box): £14.49
Defense Grid Mac (Box): £19.99

System requirements:
DVD drive
Mac OS X 10.5
1.8GHz Intel Mac Core Duo
1.1GB HDD
1024MB RAM
GeForce 7300/Radeon X1600
Geforce 7300 and Radeon X1600 can only display mid or low display resolutions
Internetaccess is required
I agree with the
privacy policy
.
Defense Grid Mac
Defense Grid: The Awakening for Mac
Defense Grid: The Awakening is a unique spin on tower defense gameplay that will appeal to players of all skill levels. A horde of enemies is invading, and it's up to the player to stop them by strategically building fortification towers around their base. Beautiful environments, spectacular effects, and a dynamic, engaging soundtrack bring the world to life. The controls are intuitive and the gameplay is deep -- the special attacks and properties of each tower work together to provide many ways to succeed.
Features:
Battle 15 different enemy types that become increasingly stronger, and employ a variety of strategies in an attempt to bypass the player's defenses.
Utilize 10 different tower types with 3 levels of capability each. Each tower has unique tradeoffs that affect ideal placement, such as line-of-sight attack or ballistic trajectory fire; a large area of effect or damage over time
High Replay Value -each game level can be solved in many different ways, with increasing rewards for improved efficiency
Explore 20 unique environments, each with a different placement of roads, tower build locations, and open areas to plan a strategy around