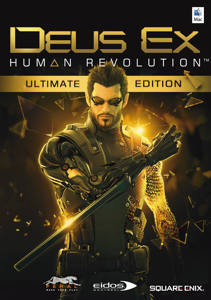 Products
Deus Ex: Human Revolution - Ultimate Edition (Box): £13.99

System requirements:
DVD drive
Mac OS X 10.7
2GHz Intel Mac Core Duo
17GB HDD
4096MB RAM
3D graphics card 256MB VRAM
Multi-Button Mouse or Game Pad
The following graphics cards are not supported: ATI X1xxx series, ATI HD2xxx series, NVIDIA 9400, NVIDIA 7xxx series, NVIDIA 320M, Intel HD3000, Intel HD 4000 and Intel GMA series.
The game also contains a 44-minute "making-of" documentary, a 40-page book of design and concept art, motion comic, a soundtrack composed by Michael McCann and three trailers.



Important: Does not work with macOS 10.15 (Catalina) and above

I agree with the
privacy policy
.
Deus Ex: Human Revolution - Ultimate Edition
At the edge of humanity, there is nothing to stop you falling.
At the edge of humanity, there's nothing to stop you falling.

When former SWAT commander Adam Jensen is forced to undergo cybernetic augmentation, he discovers that the boundary between man and machine is a point of no return. Uncover the truth behind a global conspiracy in a first-person role-playing game where you must combine combat, stealth, hacking and social interaction to determine the course of human evolution.

In a world where amoral corporations market biomechanical modifications and those who protest against them are silenced, only those who adapt survive. Discover the true potential of your augmentations and manipulate Adam's body into your perfect machine.
Features:
Discover what led to the events of the groundbreaking Deus Ex in this visionary prequel, set 25 years before the original game.
Experience truly open-ended gameplay in a world where your every choice has a lasting consequence.
Unlock and upgrade augmentations to Adam's limbs, eyes, brain, skin and lungs as you develop his body to suit your playing style.
Wield the power of robotic limbs to perform brutal takedowns on your foes.
Become invisible, move silently and see through walls as you use stealth upgrades to sneak past deadly troops and penetrate forbidden zones.
Hack into security systems to read e-mails, disable surveillance cameras and unlock doors to hidden areas.
Make friends and influence people! Become a master of persuasion and convince intriguing characters to give you information and behave as you want them to.
Immerse yourself in strikingly inventive futuristic visions of Detroit and Shanghai, where cyberpunk sensibility meets Renaissance aesthetic. Explore every corner of these cities to uncover hundreds of secrets.
Deus Ex: Human Revolution - Ultimate Edition contains The Missing Link DLC and the Explosive Mission and Tactical Enhancement expansion packs.
DEUS EX: HUMAN REVOLUTION © 2010-2012 Square Enix Ltd. DEUS EX, the DEUS EX logo, EIDOS, the EIDOS logo and the EIDOS MONTREAL logo are registered trademarks of Square Enix Ltd. SQUARE ENIX and the SQUARE ENIX logo are registered trademarks of Square Enix Holdings Co., Ltd. Mac and the Mac logo are trademarks of Apple Inc. registered in the U.S. and other countries. Published by Feral Interactive Ltd. Feral and the Feral logo are trademarks of Feral Interactive Ltd. All other trademarks and copyrights are the property of their respective owners. All rights reserved.