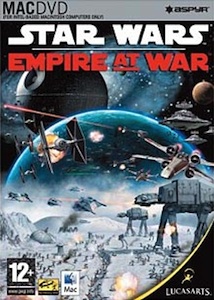 Products
Star Wars: Empire At War (download): £19.95 (£20.99)

System requirements:
DVD drive
Mac OS X 10.5
1.8GHz Intel Mac Core Solo
4MB HDD
512MB RAM
GeForce 7300/Radeon X1600




Does not work with OS X 10.7, 10.8 and above
I agree with the
privacy policy
.
Star Wars: Empire at War
Fight epic realtime battles in endless space!
You are the Supreme Galactic Commander

Star Wars: Empire at War puts the power to command an entire war for the Star Wars galaxy in the hands of players, giving them the freedom to determine how they play the game within completely scalable and accessible gameplay. Set a few years before the events of Episode IV A New Hope, LucasArts' Empire at War lets players wage war on the ground and in space, as well as experience the creation of the Rebel Alliance, the strengthening of the Empire and the beginnings of the Galactic Civil War.

Using an entirely new game engine created by the Las Vegas-based developer Petroglyph, Empire at War features beautifully rendered land and space battles set on memorable planets such as Yavin IV, Tatooine and Dagobah, as well as never-before-seen environments taken directly from the Star Wars films and expanded universe novels. In the game, players choose to join either the Rebel Alliance or the Galactic Empire, building and setting up tactical forces to unleash upon the enemy in real-time 3D. Memorable Star Wars hero characters can be brought into the action to help turn the tide of the battle as players build, manage and upgrade their space and ground-based units, vehicles, troops and base structures.
Features:
Conquer or liberate over 80 ground and space locations including Kashyyyk, Tatooine and Dagobah - each with its own strategic advantage.
Command iconic Star Wars characters such as Obi-Wan Kenobi, Luke Skywalker, Darth Vader and Boba Fett.
Pit X-wings against TIE fighters or command an entire fleet of Star Destroyers in space. Then send down land forces to secure the planet below.