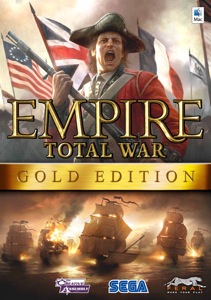 Products
Rome: Total War Gold Edition (Box): £14.99
Napoleon: Total War - Gold Edition (Box): £19.95
Total War: SHOGUN 2 (Box): £24.99
Empire: Total War - Gold Edition (Box): £29.99

System requirements:
DVD drive
Mac OS X 10.7
2GHz Intel Mac Core Duo
15GB HDD
4096MB RAM
256MB VRAM
The following cards are NOT supported: ATI X1xxx series, NVIDIA 7xxx series and Intel GMA series.
Download version does not require a DVD drive.





Important: Does not work with macOS 10.15 (Catalina) and above

I agree with the
privacy policy
.
Empire: Total War - Gold Edition
Command the seas, conquer the land, build an Empire
An epic game of real-time tactics which combines turn-based empire building with massive 3D real-time battles on land and at sea. Charged with the fortunes of a nation, you must use diplomacy, trade and military force to establish it as the dominant power of the 18th Century.

Decide the strategy behind the development and expansion of your empire. Expand your borders through conquest or diplomatic cunning. Conquer overseas territories to establish colonies and profitable trade networks. Take command of the battlefield and patrol the open seas to defeat your enemies and shape the contours of history.
Features:
Empire: Total War - Gold Edition contains all game updates, improvements and downloadable content, including The Warpath Campaign and four unit packs: the Special Forces Units and the Elite Units of the East, West and America.
Rule one of 12 nations from Europe, America and the Indian subcontinent, and govern your fledgling empire across a massive campaign map.
Set the strategy, dictate the tactics and command your troops during battles involving thousands of soldiers.
Take to the high seas and lead war fleets bristling with cannon in superb recreations of 18th Century naval warfare.
Experience combat in astonishing detail using full camera control to zoom in on accurate character animations.
Forge alliances, share knowledge and negotiate trade routes as you engage in diplomacy with other nations.
Research new technologies to make your enterprises more profitable and improve your armaments.
Play as George Washington in the revolutionary campaign Road to Independence and lead the Continental army against the might of the British Empire.
Recreate landmark battles from one of the most turbulent periods of world history, including Bunker Hill, Fontenoy and Rossbach.
© SEGA. The Creative Assembly, Total War, Empire: Total War and the Total War logo are trademarks or registered trademarks of The Creative Assembly Limited. SEGA and the SEGA logo are either registered trademarks or trademarks of SEGA Corporation. All rights reserved. Uses Miles Sound System. Copyright ©1991-2012 by RAD Game Tools, Inc. Portions of this software utilize SpeedTree® technology (©2003-2007 Interactive Data Visualization, Inc.). SpeedTree® is a registered trademark of Interactive Data Visualization, Inc. All rights reserved. Mac and the Mac logo are trademarks of Apple Inc., registered in the U.S. and other countries. Feral and the Feral logo are trademarks of Feral Interactive Ltd.