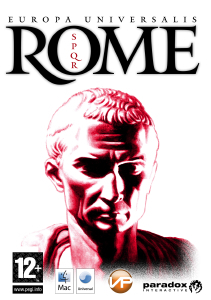 Products
Europa Universalis Rome (Box): £34.99

System requirements:
Mac OS X 10.3.9
G5
3D graphics card 64MB VRAM
Does not support GMA
Internet connection for activation required
I agree with the
privacy policy
.
Europa Universalis Rome
Become the leader of ancient Rome - It's your empire!
Experience one of the most defining periods in world history in an experience crafted by the masters of Grand Strategy. The greatest cultural and military civilizations are brought to life through this epic title rife with great strategic and tactical depth.

Europa Universalis: Rome will cover the time period from the first Punic War to the start of the true Empire. Players will have thousand of gameplay choices ranging from country, culture, provincial and character options to name but a few, making each and every game infinitely customizable and truly unique.
"Europa Universalis: Rome combines the best of the Empire Building, Conquest and Warfare genres, wrapped into a title that contains all main characteristics of a typical Paradox Interactive game", said Johan Andersson, Director of Development. "This project has the potential to become the most talked about grand strategy game to date."
Features:
Fully 3D map with integrated graphics and detailed topography
Start at any date between 280 B.C. and 27 B.C.
Choose between 10 different cultures, including the Roman, Celtic, Greek and Egyptian civili zations, with more than 53 playable factions on a map spanning hundreds of provinces.
Watch your characters develop new traits through political intrigue and various interactions with thousands of other characters.
Trade, negotiate or fight with your neighbours and advance your technologies to unite the Mediterranean World.
Robust multiplayer allows you to challenge up to 32 players either competitively or in co-op mode.