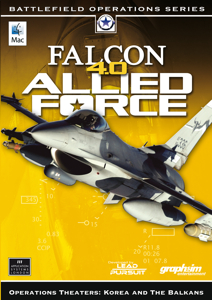 Products
System requirements:
DVD drive
Mac OS X 10.5
Intel Mac Core Duo
256MB RAM
GeForce 7300/Radeon X1600 64MB VRAM
Does not work with Sierra (macOS 10.12)


I agree with the
privacy policy
.
Falcon 4.0: Allied Force Mac
Military flight simulation
The legend returns! Falcon 4.0: Allied Force is the most comprehensive and powerful combat flight simulator ever made for non-military use. It's just like sitting in the real cockpit. Features incredible attention to accuracy and simulation fidelity. Enhanced with new features and a new theater of operations covering the Balkans and Korean Peninsula.
Features:
Pilot three different variants of the F-16 Fighting Falcon.
Shoot a variety of air-to-air missiles like the AIM-120 AMRAAM and AIM-9 Sidewinder.
Simulate an entire war with the most advanced and truly dynamic campaign engine ever made for your PC.
Participate in cooperative or adversarial multi-player flight over a LAN or internet.
Bomb damage may or may not be repaired, depending on enemy resources and command.