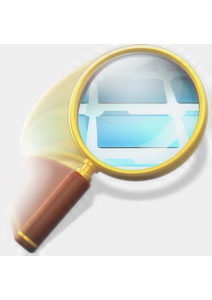 Products
Find Any File (download): £6.49

System requirements:
Mac OS X 10.6 / Mac OS X 10.7
Mac OS X 10.8 / Mac OS X 10.9 / Mac OS X 10.10 / Mac OS X 10.11
Mac OS X 10.12
Mac OS X 10.13
24MB HDD

I agree with the
privacy policy
.
Find Any File
Search and find any file on your Mac
Find Any File is a program for Apple's Mac OS X that lets you search for files on your disks.


Contrary to Spotlight, it does not use a database but instead uses the file system driver's fast search operations, where available. This lets you search for file properties such as name, dates, size, etc., but not for file content (use Spotlight for that).

Find Any File can find files that Spotlight doesn't, e.g. those inside bundles and packages and in inside folders that are usually excluded from Spotlight search.
Finally, it is quite fast. A search only takes a few seconds on an internal hard disk or SSD. Try for yourself!
Find Any File doesn't replace Spotlight, but it complements it greatly:
If you search for content, such as in e-Mails, PDFs, Word docs etc., use Spotlight.
If you search for files by name, size or date, use Find Any File, as only then you can be sure that everything available is found.
A few words of caution:
Do you search network volumes? Then be aware that this will only be fairly fast if you can mount the server via the AFP protocol (which applies to most NAS, and to servers running Linux or OS X) but not when mounting via SMB (the protocol preferred by Microsoft Windows). (See the FAQ, under What kind of disks do support "fast search"?).
Want to search just a folder and its contents? Don't be tempted to let FAF search that folder specifically, because that may be slower than letting FAF search the entire volume. Give it a try! (See also the FAQ, under What does it mean when "(slow)" appears?).
Not convinced yet? Read this
review of Find Any File at MacWorld.com
.
Features:
Find Any File has a few gems that other search tools do not offer:
Better results: It offers an alternative hierarchical view for the found items. You can switch to it using Command-2 or click on the right little icon at the top of the results window:

Note that the search above revealed hundreds of hits. If you'd look at that many results in a flat list, it would be hard to browse. With this new hierarchical view, however, you can directly look for the results in the folders that interest you.


Find everything on your disk: If you hold the Option key (alt) down in the Find window, the Find button turns into Find All. If you click on it then, you are asked for an administrator password - and then Find Any File will restart with root permissions, being able to find really any file on your Mac's volumes, including files in other users' home directories (something that Spotlight won't do). Note that this will only work on local disks, not on network mounts, though.


You can save your entered searches to files (they'll have the extension ".faf"). You can then double click them in the Finder to have them start the search immediately, or use the saved search as a preset.
Search Examples
Find recent changes: Have you just installed or launched a program for the first time and like to see what it modified or added to your disks? Here's a way to do that (it excludes .DS_Store files from the results because they're not really relevant to this question).

Search in Music folder: Searching for files only inside your Music folder that are neither in AAC nor in MP3 format and which are at least a megabyte in size? So you could enter two Name criteria as follows, along with a minimum size. Also note that the search is limited explicitly to the Music folder.


Find Documents from 2015: Or you might want to find all Numbers documents created in 2015 only.