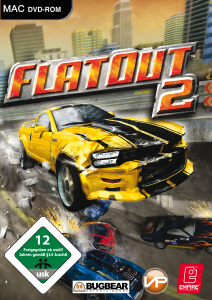 Products
Flatout 2 (box): £19.95

System requirements:
DVD drive
Mac OS X 10.4.11
1.7GHz Intel Mac Core Duo
512MB RAM
3D graphics card
GMA supported
Interntet connection for activation and mulitplayer game required
I agree with the
privacy policy
.
Flatout 2
The biggest, brashest and most destructive action racing game on the Mac
Experience the drive of your life as you throw yourself around on and off the track causing fences to shatter, tyre walls explode, water tanks and barrels fly across the track into other cars. And if anyone, including you, gets caught up in a big smash sit back and watch as the driver gets catapulted through the windscreen in spectacular effect. With over 5000 destructible objects on each track and 40 deformable pieces on every car sparks are guaranteed to fly increasing the mayhem with every lap!

As the different races progress youíll recognise which of the AI characters are your closest rivals. How you decide to take them out is up to you, like slamming them into a bridge, stealing a lead through an alternate route or Nitro boosting your way past them in the final moments.

FlatOut 2 is set to be the biggest, brashest and most destructive action racing game of 2008 on the Mac.
Features:
The inclusion of an enhanced Championship Mode. Multiple cups across increasing difficultly levels, each cup contains a series of races that the player competes in for accumulated totals of money and points
Online multiplayer modes up to 8 players on Mac and PC
Improved physics engine for an even greater racing feel
Drive at eye watering speeds on the fast tracks with extra nitro boost rewards
Improved opponent AI. Each AI driver now has their own character, biography and individual driving personalities
Unlockable bonus items for the first time including bonus cars, Championship Cups and Destruction Arenas
Set in the US (the original was set in Europe)
Thirtyfour vehicles as opposed to sixteen in the original game
Additional car types including Muscle cars, Sports cars, Pickup Trucks and Compacts (the original only contained Muscle cars)
The inclusion of a garage for the first time to allow the owning of multiple vehicles
Increased number of race environments including Big City, LA Storm Drains, Rocky Mountain Forest, Corn Fields and Desert
Sixty track combinations (thirty six in the original
Alternate track routes included for the first time and the AI uses them
Twice as many Destruction Derby Arenas (six as opposed to three in the original)
Twice as many Rag Doll Mini Games (Twelve compared to six in the original)