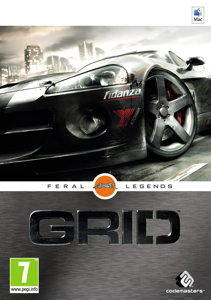 Products
GRID™ (Box): £14.49
Defense Grid Mac (Box): £19.99

System requirements:
DVD drive
Mac OS X 10.7
1.8GHz Intel Mac Core Duo
8GB HDD
4096MB RAM
256MB VRAM
The following graphics cards are not supported: ATI X1xxx series, ATI HD2xxx series, ATI HD2400, Intel GMA series, NVIDIA 7xxx series and NVIDIA 8xxx series. The following cards require you to have 8GB of system RAM: Intel HD3000, NVIDIA 9400, NVIDIA 330M and NVIDIA 320M.
Download version does not require a DVD drive.



Important: Does not work with macOS 10.15 (Catalina) and above

I agree with the
privacy policy
.
GRID™
GRID™ - Racing on the Mac just got exciting again
Gear up for the ride of your life with this exhilarating mix of sweet handling, dazzling visuals and blistering speed. GRID puts you behind the wheel of the world's premiere high-performance race cars and then sets you loose on the world's most spectacular tracks.

Race your way from the US to Europe and on to Japan in a career mode that sees you advance all the way from rookie to champion. With a shattering damage model, adjustable difficulty settings and a handy "flashback" feature, GRID rides the sweet spot between sim realism and addictive arcade racing.
Features:
Have it both ways! GRID delivers the satisfying challenge of a thoroughbred driving sim along with the instant gratification of an arcade racer.
Choose your ride! Get behind the wheel of an incredible selection of licenced supercars including the Porsche 911 GT3 RSR, the Lamborghini Murcielago R GT and the Aston Martin DBR9.
Race your way around the world, from American city streets to Japanese mountain roads to prestigious European circuits.
Master five driving disciplines from the thrill of white-knuckle downhill drift racing to the metal-on-metal havoc of demolition derby.
Go an extra lap with the 8-Ball and Prestige DLC packs, which soup up the Race Day and online modes with extra cars, new events and a new track.
Take control of the game with a large selection of supported gamepads and steering wheels.
Challenge your friends in frenetic LAN and online multiplayer battles!
© 2007-2013 The Codemasters Software Company Limited ("Codemasters"). Originally developed and published by Codemasters. All rights reserved. "Codemasters"® is a registered trademark owned by Codemasters. "GRID"™ and the Codemasters logo are trademarks of Codemasters. Developed for and published on the Mac by Feral Interactive Ltd. Mac and the Mac logo are trademarks of Apple Inc., registered in the U.S. and other countries. Feral and the Feral logo are trademarks of Feral Interactive Ltd. This game is NOT licensed by or associated with the FIA or any related company. All other copyrights or trademarks are the property of their respective owners and are being used under license. All rights reserved.