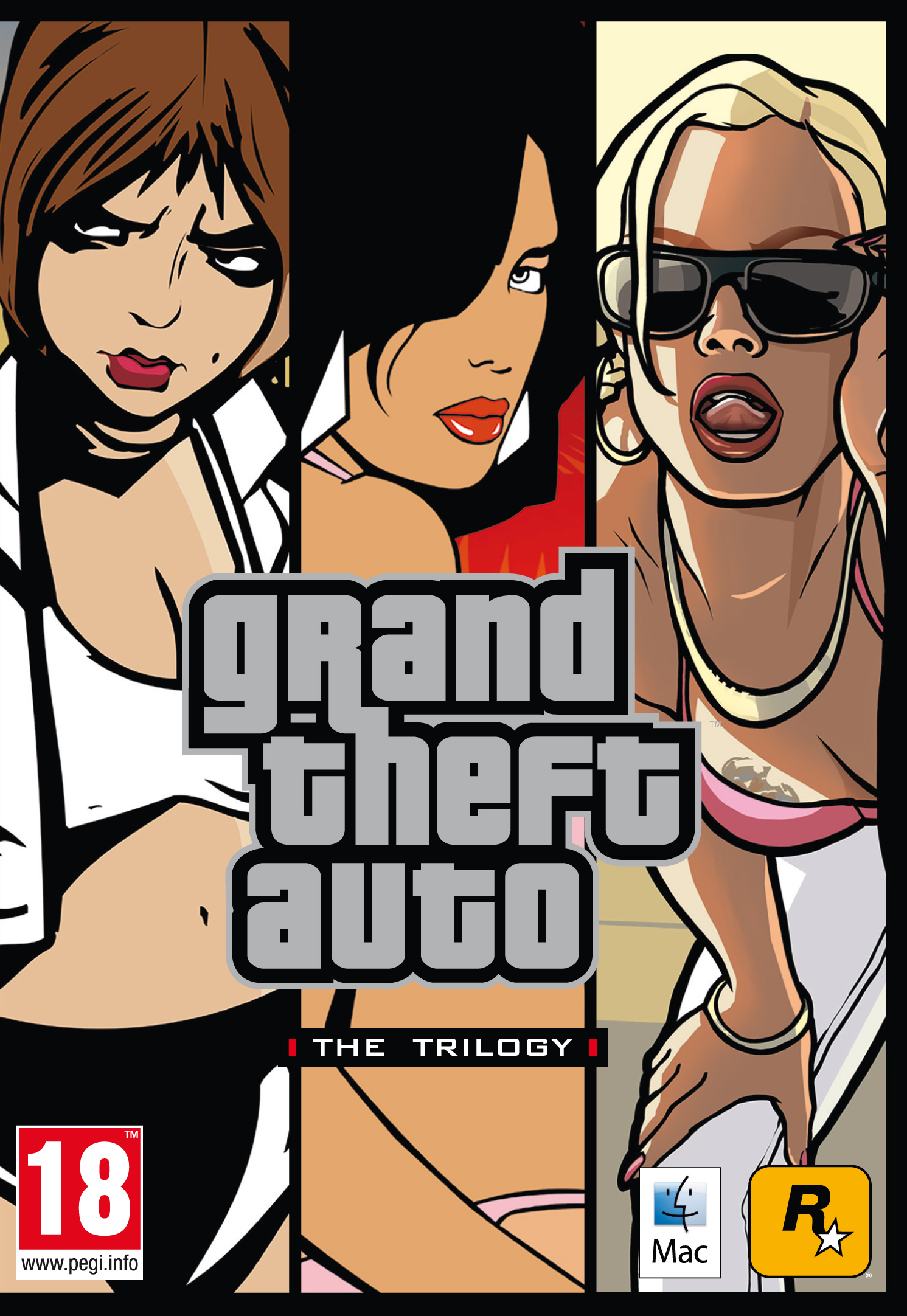 Products
Grand Theft Auto: The Trilogy (Box): £29.99

System requirements:
DVD drive
Mac OS X 10.5
Mac OS X 10.6
1.8GHz Intel Mac Core Duo
9GB HDD
1024MB RAM
GeForce 7300/Radeon X1600 256MB VRAM
I agree with the
privacy policy
.
Grand Theft Auto: The Trilogy
GTA III, GTA Vice City, GTA San Andreas
Rockstar Games is proud to present Grand Theft Auto: The Trilogy, for the Mac. The first 3D releases in the epic saga are here together in sequence: Grand Theft Auto 3, Grand Theft Auto: Vice City and Grand Theft Auto: San Andreas. More than just a bundle of three of the most influential games in the series, this trilogy's exclusive, limited edition packaging makes it the ultimate collector's set of GTA games on Mac.

Grand Theft Auto III
The fifth game in the series overall and the one that introduced players to the famous in-game environment of Liberty City, it is widely considered one of the most important video games in history due to the popularity it generated for the open-ended gameplay style of the GTA franchise. In the game you play an unnamed character who in order to confront his ex-girlfriend, who betrayed him during a bank robbery, must rise in the ranks of the criminal underworld of Liberty City.

With a cast of hundreds, 50 plus vehicles, ranging from sports cars to ice cream trucks and from boats to buses, 3 hours of music, including opera, reggae, house, drum and bass, pop and disco, a huge array of street ready weapons and some of the seediest characters in video game history, Grand Theft Auto 3 is a sprawling epic which will show you that sometimes, crime can pay and sometimes it can pay you back.

Grand Theft Auto Vice City
Welcome to Vice City. Welcome to the 1980s...Having just made it back onto the streets of Liberty City after a long stretch in maximum security, Tommy Vercetti is sent to Vice City by his old boss, Sonny Forelli. They were understandably nervous about his reappearance in Liberty City, so a trip down south seemed like a good idea. But all does not go smoothly upon his arrival in the glamorous, hedonistic metropolis of Vice City. He's set up and is left with no money and no merchandise. Sonny wants his money back, but the biker gangs, Cuban gangsters, and corrupt politicians stand in his way. Most of Vice City seems to want Tommy dead. His only answer is to fight back and take over the city himself. But all work and no play does indeed make Tommy a dull boy. Thankfully, for the action man, or outdoors type, there's tons of fun things to do and adventures to be had in the aptly named Vice City... guaranteed. And for the secretive or creepy type, it is a place full of surprises, a place where you'll constantly be surprised by the vivacious, fun-loving types who live there and the things you can discover.

Grand Theft Auto: San Andreas
Five years ago Carl Johnson escaped from the pressures of life in Los Santos, San Andreas... a city tearing itself apart with gang trouble, drugs and corruption. Here film stars and millionaires do their best to avoid the dealers and gangbangers. Now, it's the early 90s. Carl's got to go home. His mother has been murdered, his family has fallen apart and his childhood friends are all heading towards disaster. On his return to the neighborhood, a couple of corrupt cops frame him for homicide. CJ is forced on a journey that takes him across the entire state of San Andreas, to save his family and to take control of the streets.

Originally released in 2004, the now infamous GTA: San Andreas is fully optimized for the Mac platform, featuring polished and enhanced graphics, visual effects, soundtrack capabilities, instant replay, player mod support and more.
Features:
Grand Theft Auto III:
An epic adventure set in the Grand Theft Auto franchises 3-island metropolis of Liberty City, circa Theft Auto 3.
A massive nonlinear storyline penned by Rockstar's award-winning writing team.
Professional character voice acting and production.
The game includes many side quests and extras to unlock, plus 100 packages to find.
Grand Theft Auto Vice City:
An expanded control scheme allows for play in mouse-look 3rd person view or the classic Grand Theft Auto console view.
With massive viewable distances, texture resolutions bumped up from 32-colors to 32-bit color with billions of shades and game resolution to scale as high as your monitor can support, graphics have been pushed to the limit to take advantage of the latest Mac hardware.
Muster your artistic prowess to create your own player skin. Add to Tommy's 80's culture wardrobe or create a whole new original spin on the character itself.
At any given time players can watch a replay of the last 30 seconds of the game and mail your unbelievable gameplay sequences to friends to watch.
Grand Theft Auto: San Andreas
Polished graphics and new visual effects take full advantage of powerful Mac hardware, offering impressive, superior visuals.
An MP3 radio station and Dolby Digital 5.1 surround sound deliver an impressive aural experience that allows the player to customize the radio dial of San Andreas.
Relive incredible action sequences via an instant replay feature that repeats the last 30 seconds of gameplay, complete with cinematic camera effects.