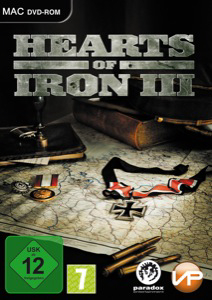 Products
Hearts of Iron 3 (box): £34.99

System requirements:
DVD drive
Mac OS X 10.5
1.7GHz Intel Mac Core Duo
3.1GB HDD
1024MB RAM
3D graphics card 128MB VRAM
No support for ATI X1600/1900 and Intel GMA
Internect connection for product activation required
Chipset with dedicated RAM required. At least 128 MB VRAM, 256 recommended
I agree with the
privacy policy
.
Hearts of Iron 3
WWII, focuses on military, political, economic & diplomatic struggles
Hearts of Iron III (HOI 3) is a grand-scale strategy game designed by enthusiasts of World War II history, and focused on the military, political, economic and diplomatic interactions worldwide between 1936 - 1948. Every effort at maximizing both realism and playability has been made, and an excellent balance has been found.

It is the first strategy game of its type with a realistic supply system, which individually accounts for units of supply or fuel on its way to the units at the front, allowing interdiction of supply by the enemy, or interruption because of bottlenecks on muddy roads. The weather system is a detailed simulation just by itself, and the impact of weather is realized on the battlefield. An intricate system of research and development for new weapons will make a difference over time. There is much here for those who seek historical detail and accuracy.

At the same time, no game has ever implemented this degree of flexibility for players who might otherwise be overwhelmed by the detail. The system of Theatre Commanders and Headquarters networks allow any player to set most or all of the war on "autopilot" while he or she concentrates on whatever elements they so desire. You have all the complex instruments of war at your fingertips if you want them, yet you have the freedom to defer most or all of the minor decisions to artificial ministers or generals so you can either enjoy the broad overview of the game, or learn how to play it gradually.

HOI 3 is designed primarily as a wargame, with the emphasis on combat and military units. However, any student of history will tell you there are non-combat aspects to war which are often more important than even the combat itself. In HOI 3, these aspects are represented through your ability to direct your economy, to manage your resources, to pursue diplomatic objectives, set research priorities, etc. It's all done with the goal of providing a realistic representation of the challenges and elements faced by the real-life commanders from the World War II era.

HOI 3 is accurate enough in its portrayal of division-level warfare that many of the strategies and tactics players must use are drawn from real-life - principles that are taught in army staff colleges worldwide. An 80-page illustrated HOI 3 Strategy Guide is available in electronic format for registered owners of the game.

The original Hearts of Iron was released in 2002, and quickly became a cult classic. Its sequel was produced in 2005, and two expansions were released in 2006 and 2007. Paradox has learned from each new release, and continues to improve upon their product.

There are many changes and improvements in HOI 3. But some of the most substantial changes have to do with the number of provinces, and the changes to "scaling" that causes. Also the degree to which historical scripting drives the game has changed. HOI 2 was very tightly scripted to make sure historical events happened, either forcing the player into one or more options, or sometimes causing things to seem unrealistic because those events were "out-of-place" in an ahistorical context. HOI 2 allowed a more freeform exploration of ahistorical possibilities, but also admitted some very strange results because it was inflexible. HOI 3 is more of a simulation of World War II and the types of events you should expect within context, according to the way your choices change things.

For instance, HOI 3 does not pre-determine the start date of wars. This means that World War II in Europe could start in May, instead of September, or could even happen in 1938 or 1940. This means that every country - aggressive countries, or western democracies - may have the opportunity to build up over time. On the other hand, it's also possible that you will not have as much time as you expected. It's impossible to predict with certainty when major events like the Spanish Civil War will start, or even if they will start at all!


Features:
Play as any nation from 1936 to 1948, more than 100 countries to choose from.
Control the oceans with aircraft carriers, submarines and battleships and use your air force to defend your skies, support your naval and ground forces, and to bomb your enemies.
Thousands of historically accurate real-world military commanders and politicians.
Realistic military command AI with unprecedented levels of interaction.
In-depth diplomatic and political system.
Historical accuracy combined with an unparalleled level of freedom of choice.
Customize your divisions in detail with more than 20 types of brigades.
Government-in-exile makes it possible to continue to struggle from abroad with underground movements and uprisings against the oppressing power.
Strategic warfare system makes it more important to defend the skies and oceans against foreign attacks; leaving cities open to enemy bombing will now be devastating.
A completely new intelligence system, with several types of intelligence sources, makes it possible to get information about enemy reserves and troop movements.
Assign troops to "theatres" on the map to fight two-front wars more successfully.
The new AI system and more detailed map will allow for more strategic decisions.
Flexible technology system with hundreds of categories, and unlimited research.
Highly realistic historical order of battles.
The first realistic logistic system ever in a strategy game.