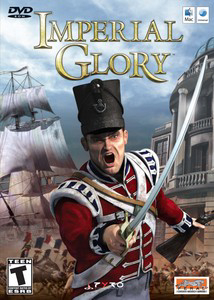 Products
Imperial Glory (Box): £19.99

System requirements:
DVD drive
Mac OS X 10.4.4
1.7GHz G4
4MB HDD
512MB RAM
64MB VRAM



Important: Does not work with macOS 10.15 (Catalina) and above

I agree with the
privacy policy
.
Imperial Glory
Imperial Glory is set during the Napoleonic Wars of teh late 18th and early 19th centuries. You'll take hold of a great European empire and try to march its forces across the world. Achieve dominance through gigantic military action, or through use of economic advantages and shrewd diplomats. Rule as a constitutional monarch or a complete dictator, as you expand your control from the sweeping deserts of Morocco to the icy fields of Russia.
Features:
Control one of history's great empires - Great Britain, France, Russia, Prussia or Austro-Hungary -- all with unique strangths and weaknesses that change as the game progresses
Striking environments and fully interactive Battle Maps provide the backdrop for gruesome combat; Faithfully reproduced units, with authentic period formations and maneuvers
Plan and lead breathtaking naval battles with a variety of ship classes -- choose to sink your enemy, or immobilize, board and capture their vessels
In-depth management models with separate diplomacy, politics, commerce and technology branches -- giving you multiple ways to expand your empire
Real-time battles for 2-4 players