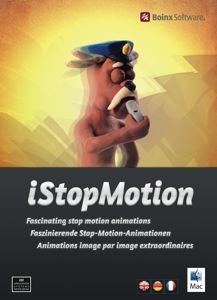 Products
iStopMotion 3 for Mac (Box): £19.99 (£34.99)

System requirements:
IMPORTANT: This version won't work with macOS 10.15 (Catalina)

I agree with the
privacy policy
.
iStopMotion 3 for Mac
Stop motion animation and time lapse on Mac OS X
Important: This version won't work with macOS 10.15 (Catalina)

iStopMotion 3 includes all of the same great features iStopMotion Pro, Express and Home offered, from HD support and color correction to rotoscope and Final Cut Pro integration.

If you want to make your own movie telling a story on a shoestring budget, stop motion animation (also sometimes called claymation) with iStopMotion is the way to go. No need for a script, talented actors, a crew, a huge stage. Just bring your toys and your phantasy, hook up your digital video camera, webcam or digital still camera to your Mac and have a go. It is so easy, your kids can do it. Spend your weekend doing something worthwhile with your family. Stop motion animation with iStopMotion is fun for everyone. It challenges your imagination and gives immediate gratification.
Boinx iStopMotion is the leading solution for stop motion animation and time-lapse capture, and won the O'Reilly Mac OS X Innovators Award in 2003.

What is Stop Motion Animation?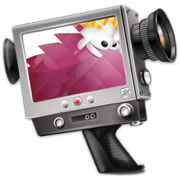 If you watch a movie, you are actually watching a sequence of still images paraded before your eye at high speed. The movement you see happens because there are small differences from one still image to the next. Early film makers quickly discovered that you could do special effects by shooting the images one by one instead of at full speed. They would make a puppet of a gorilla and build a miniature Empire State Building and put them in front of the camera. In between making images they would make subtle changes to the gorilla, bringing it to life when the final movie was played. And now you can do it at home with iStopMotion.

Immediately Gratifiying
It is very important for kids that they can immediately see the fruits of their work. Onion skinning shows you even while you are animating what it is going to look like. You can easily spot when you accidentally moved the camera or forgot to move a piece of your scenery. Correct this error and move on.

Let Your Imagination Wander
Use one of the background scenes included with iStopMotion Home to put your actors on the moon or deep down under water or have your movie play in a desert. All from the comfort of your living room. Or add a curtain to the foreground to make it look as if your performance takes place on a theatre stage.

Show It To Your Grandma
Take your animation with you anywhere you go. Either put it on a DVD with Apple's iMovie and iDVD and show it on a TV set, or use your printer to create a flip-book, something so simple that it works even without electricity, and fits into your pocket to be taken anywhere you want.

Animate to Sound
In most professional animation productions, the sound is recorded before the animation. Record your soundtrack in GarageBand or any other sound tool and import it into iStopMotion. It will show you the audio waveform so that you can easily identify critical events like the beat in background music if you want your animation to match that.

Rotoscope
Imagine you want to animate a dialog. Getting the mouth movements right is very tough, even if with the soundtrack waveform. Better just sit in front of your camera, record yourself speaking the dialog and then load that movie into iStopMotion Express as an animation guide. Now it's easy to get the dialog right.

Virtual Stage
Shoot your own background pictures or movies and animate dinosaurs into them. Put a real actor into an animated background. The amazing power of chroma keying (also called blue- or green-screening) brings ambitious movie ideas within your reach.

Adding titles, cuts, effects
iStopMotion is a recording tool. It does one thing and it does it well: help you take footage. Cut your movie, add titles, transitions and effects with one of the powerful movie editing apps out there. iStopMotion produces files that can easily be used with iMovie, Final Cut, Adobe Premiere or other apps that can read QuickTime files.

Share it with the world
Once you have finished your movie, tell the world about it. Upload it to a movie sharing service such as YouTube and send us the link. We can post it to the Examples page and mention it in our newsletter. We might even give it an "Excellent iStopMotion Example Award".

High Tech
- Immediate Feedback. With Onion Skinning you see what the animation is going to look like before you capture the frame.
- Instant Playback. Because the frames do not have to be processed, watch your animation right away to see if it worked out the way you wanted.
- Get a Cue. Instead of creating a detailed X-sheet, load a real video, overlay it to the video input and use that as a guideline.
- WYSIWYG. If you use a greenscreen, the chroma keying in iStopMotion shows you what your frame will look like when recorded.
- Remote Control. Use the Apple Remote to capture frames from a distance. This saves you travelling between your animation table and the computer keyboard.
- Integration. Send your movies directly from iStopMotion Pro to Final Cut Pro.

Fits into Your Workflow
iStopMotion uses lossless compression to save individual frames into a QuickTime movie file. Use these files with the tools you already know, for example Final Cut Pro, for further editing in pristine quality.
Easily retouch single frames in an external image editing app such as Photoshop. When you save the image, iStopMotion automatically puts it back where it belongs.
Build your own control station by freely mapping the keyboard keys to any functionality you want.

Working with Multiple Cameras
Connect a DV cam for controlling your animation and a digital still camera for high image quality. Or connect two cameras to take the same shot from two perspectives.
Features:
Workflow
Workflow based on convenient presets that keep the complexity from the user.
Ships with common presets that cover most needs.
Power users can customize all details to their needs.
Presets also include export and playback settings.
User can create own document presets, to have presets that fit their special needs.
Playback movies are rendered in the background, so you don't have to wait long when pressing play.
Saving is instantaneous as images are captured directly into the right movie.
Option to auto-save your work, so you never lose any frames should the software crash.
An iStopMotion project is a fully compatible QuickTime movie, so it can be used directly by other applications.
Convenient export based on presets.
Full aspect ratio support for documents and video sources, based on presets.
Support for frame-based count in addition to timecode display.
Additional time code window
Integration with Final Cut Pro - Final Cut Pro X version 10.0.1 or later is required.
Time Lapse Recording
Capture a single frame or a sequence of frames at predefined intervals.
You can now time-lapse a scene with a interval smaller than one second (depends on video resolution and hardware speed).
AppleScript support lets you schedule start and stop as well as frequency of time lapse recording sessions.
Live Recording
You can record real-time events directly into your stop motion project.
Frame rates will be automatically converted so you can record from a PAL video camera into a 15 FPS project.
Chroma-Keying
Automatic chroma-key color detection for easier use.
Chroma-keying only changes the transparency of image pixels, not the image itself.
Power users can customize range, feather and chroma-key color.
Tilt Shift Filter
Use this popular optical effect to make you scene look like a miniature.
Especially appealing with time lapse movies.
A convenient preset functionality lets you store your favorite settings for future use.
Please note that Tilt Shift is not available on older MacBook and Mac mini computers with onboard Intel GMA graphics.
Animation Features
Animating your scene is the heart of your movie. iStopMotion provides several basic and advanced features to help you animate.
Preview overlay gives animators precise control.
Onion Skinning to make inter-frame motion visible.
Blinking.
Grid. A overlaid grid can be displayed in the preview area helping the animator to position animated objects.
Frames based user interface for easy editing.
Title/Action Safe Area overlay.
Aspect Ratio overlay for when you want to animate for different screens.
Rearrange Frames for interesting effects.
Capture multiple frames at once to reduce workload.
Delete frames, for those rare occasions when you messed up.
You can now load movies as a reference, or 'rotoscope'. This is helpful for combining real-world movies with animated parts. It can also be used to do lip-synching.
As you usually need this reference when working on the next frame there's an option to look one frame ahead in the rotoscope track.
See the rotoscope movie in the way most useful to you. In the main window, splitting the display in two, in a separate window, or blended with your captured frames.
Choose to also have the sound of the rotoscope movie playing.
Offset the rotoscope movie to match your scene.
Add a sound track, displayed as a waveform in the timeline to help identify critical points.
Offset the sound track to match your scene.
Compositing
Use images or movies for putting them behind or in front of your recording.
Use bundled media as foreground and background objects.
Import your own images or movies for the background and foreground.
When using background media, the source feed will be chroma-keyed.
General
"Unlimited" resolution, allows movies with up to 10000×10000 pixels.
Flexible framerates.
Customize frameoffset of movie.
Images are stored at maximum quality uncompressed.
Switch between every supported device easily.
Use any QuickTime-supported device.
Remote Capture support for PTP-compatible still cameras. (see the list of supported still cameras)
iStopMotion Remote Camera. iStopMotion can now wirelessly capture from an iOS device with the aid of iStopMotion Remote Camera app.
Noise Reduction (aka Frame Averaging) feature improves image quality from video cameras and the Apple iSight.
Flip or rotate incoming source so you can use your camera upside down to get closer to the objects.
Compressed Preview for smooth preview instant replay at high resolutions or with less powerful Macs.
Preview Zoom to fit large resolutions on your computer screen.
Shortcuts
There are a lot more shortcuts to be controlled via keyboard or speech recognition.
All shortcuts are fully customizable. Check the Shortcuts preference pane for details.
Use the Apple Remote delivered with recent Macs to capture, play and navigate your movie.
AppleScript support to integrate other remote control devices.
Export
Export your work to any common QuickTime movie format to use it as footage for iMovie or Final Cut or share it with your friends and colleges. QuickTime is a versatile file format that can be used in many applications. Produce movie files for DVD, HD video, web, iPod, iPhone and Apple TV.
Simple export with provided export presets.
Export using any QuickTime exporter installed on your computer.
Flipbook Printing
Print good old flip books from your animation.
Supports newest technology
iStopMotion 3 fully supports OS X Mountain Lion.
iStopMotion 3 is fully ready for the latest generation MacBook Pro with Retina display.