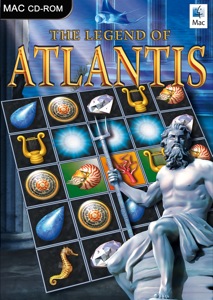 Products
The Legend of Atlantis (download): £8.55 (£8.99)
The Legend of Atlantis (Box): £13.99

System requirements:
Mac OS X 10.4.11
Mac OS X 10.7
1.4GHz G4/ Intel Mac Core Solo
256MB RAM
32MB VRAM



Important: Does not work with macOS 10.15 (Catalina) and above

I agree with the
privacy policy
.
The Legend of Atlantis
Discover the mysterious sunken city in this challenging puzzle game
Atlantis - a sunken world that has always been shrouded in mystery.

People have been fascinated by Atlantis for thousands of years. Leave your ordinary life behind and accompany Plato to this bewildering, beautiful sunken world. Bring three or more items in a formation to increase your score. You can use your score to purchase various aids in game. Always be attentive because it is possible to lose treasures, too.

The higher your level, the harder the game becomes. But each solution will bring you a step further to solve the riddle of Atlantis. New players will be able to quickly understand the concept of game. The difficulty gets slowly harder, from level to level - and so your ambition to beat the game.

Hold your breath and experience the legend of Atlantis.
Features:
More than 100 fascinating levels
Different kinds of new game features
Free play mode
Simple and easy introduction to the game
Difficulty is adjustable
Compelling, long lasting fun