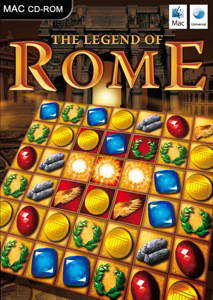 Products
The Legend of Rome (download): £8.55 (£8.99)
The Legend of Rome (Box): £13.99

System requirements:
Mac OS X 10.4.11
Mac OS X 10.7
1.7GHz G4/ Intel Mac Core Solo
256MB RAM
64MB VRAM



Important: Does not work with macOS 10.15 (Catalina) and above

I agree with the
privacy policy
.
The Legend of Rome
Become the architect of the Eternal City of Rome
As an architect, you can recreate the great buildings of the eternal town to shine in a new splendor. Build a Colosseum and a harbor for the citizens of Rome and do not forget social amenities like constant water via an aqueduct or thermal springs. To fully supply the people, you can also purchase mines, vineyards and more.

The more you progress in levels, the harder the tasks get. Buildings get more and more gorgeous the higher your level climbs. But never stir up the "Wrath of the gods"! If you do not manage to keep up with the number of magic symbols, your newly created town will be infested with plagues. Obviously, that will force you to start over.

Move items to build tripple rows. The credits you gain by that can be used to construct buildings or to buy resources.
Constructions will give you certain facilities to help you upon your tasks. Use those aids to gather even more treasures, resources and goods for your empire.

Even lesser skilled players can master the game-play, which is easy but challenging, through an easy introduction to the game and the adjustable difficulty.
Features:
More than 100 fantastic levels
New features "Wrath of the gods"
Introduction to the game and 3 difficulty levels
Uniquely gripping fun