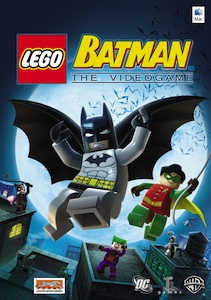 Products
Lego Batman (Box): £13.99
LEGO Batman 2: DC Super Heroes (Box): £13.99

System requirements:
DVD drive
Mac OS X 10.5.8
1.4GHz Intel Mac Core Duo
5GB HDD
512MB RAM
128MB VRAM
Supports Macs with Intel GMA processors. (older Intel Mac Minis and MacBooks)
File size: 5.0 GB (approx)



Important: Does not work with macOS 10.15 (Catalina) and above

I agree with the
privacy policy
.
Lego Batman
How successful will you be as Batman and Robin in Gotham City?
Gotham City is falling to pieces!

Arkham Asylum is home to Gotham City's criminally insane villains - or at least it was until they broke out. Now they're working together to commit a string of fiendish (and surprisingly elaborate) crimes and it's up to you to stop them!

Take control of the Dynamic Duo. Play alone or with a friend as Batman and Robin, and use their array of hi-tech suits, vehicles and special abilities to put the crooks behind bars, then switch to other Gotham City crime fighters like Batgirl and Nightwing to finish the job.

When you're done cleaning the streets of Gotham, turn it around and play as any one of a whole range of villains, from Bane and Catwoman to Two-Face and The Riddler, and find out how much fun it is to steal giant lasers and plant penguin minions all over the city using villainous vehicles and super-skills like mind control.

There is no rest for the good (or evil)!
Features:
Fight for justice as Batman and Robin or create chaos as The Joker, Catwoman and other villains, as you save or destroy Gotham City.
Master special superhero power-suits and new moves, along with the weapons unique for each character.
Build and drive Lego versions of favorite vehicles like the Batmobile, Batboat and the Batwing.
Customize characters, build and transform game environments, and challenge yourself with multi-layered collectibles and rewards.
Designed for standard two-player, drop-in/out cooperative play.
Replay any level in Freeplay Mode with any characters you've unlocked.
LEGO BATMAN: THE VIDEOGAME Software © 2009-2011 TT Games Publishing Ltd. All other trademarks and copyrights are the property of their respective owners. All rights reserved. LEGO, the LEGO logo and the Minifigure are trademarks of the LEGO Group. © 2009-2011 The LEGO Group. All Rights Reserved. BATMAN and all related characters and elements are trademarks of and © DC Comics. WBIE LOGO, WB SHIELD: ™ & © Warner Bros. Entertainment Inc. (s09). Mac and the Mac logo are trademarks of Apple Computer Inc. registered in the U.S. and other countries. Feral and the Feral logo are trademarks of Feral Interactive Ltd.