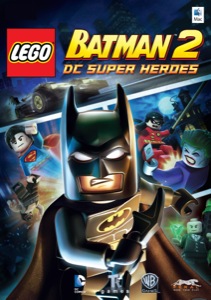 Products
Lego Batman (Box): £13.99
LEGO Batman 2: DC Super Heroes (Box): £13.99

System requirements:
DVD drive
Mac OS X 10.6
1.4GHz Intel Mac Core Duo
5GB HDD
2048MB RAM
128MB VRAM
The following graphics cards are not supported: ATI X1xxx series, NVIDIA 7xxx series and Intel GMA series.
Download version does not require a DVD drive.




Important: Does not work with macOS 10.15 (Catalina) and above

I agree with the
privacy policy
.
LEGO Batman 2: DC Super Heroes
Batman returns to the Mac, and this time he's got company!
When the Joker teams up with Lex Luthor to bring chaos to Gotham City, it's up to Batman, Superman and the rest of the Justice League to thwart their villainous plans!

Featuring a brand-new DC Universe story with sharp dialogue and humorous voice acting, players are given complete freedom to explore Gotham as a glittering cast of DC superheroes including Superman, Wonderwoman or the Flash. With piles of side-quests and fun activities scattered throughout an immense, open world, this is the biggest and best LEGO game yet.
Features:
Fight for justice by playing as favourite characters such as Superman, Wonder Woman, Green Lantern, Aquaman and of course, Batman!
Experience a brand-new DC Universe story written by TT Games, with dashing heroes and notorious villains brought to life by sparkling dialogue.
Fly over Gotham City as Superman, race through its streets as The Flash or use the Batmobile to explore the LEGO series' very first open world.
Wield super powers, abilities and gadgets including Superman's strength, Wonder Woman's Golden Lasso and Green Lantern's Power Ring.
Master the Dynamic Duo's incredible suits, giving Batman the power to launch rockets, turn invisible and fly, and Robin the ability to walk up walls and perform acrobatics.
Team up to fight the forces of evil in a co-operative mode that lets a second player drop in or out at any time.
Protect Gotham City in variety of vehicles including the Batmobile, the Batwing and Joker's Helicopter.
LEGO BATMAN 2: DC SUPER HEROES software © 2012 TT Games Publishing Ltd. Produced by TT Games under license from the LEGO Group. LEGO, the LEGO logo, the Brick and the Knob configurations and the Minifigure are trademarks of the LEGO Group. © 2012 The LEGO Group. Batman and all related characters, and elements are trademarks of DC Comics © 2012. All Rights Reserved. WB GAMES LOGO, WBIE LOGO, WB SHIELD: ™ & © Warner Bros. Entertainment Inc. Published for the Mac by Feral Interactive Ltd. Mac and the Mac logo are trademarks of Apple Inc., registered in the U.S. and other countries. Feral and the Feral logo are trademarks of Feral Interactive Ltd. All other trademarks and copyrights are the property of their respective owners. All rights reserved. Batman and all related characters, and elements are trademarks of and © DC Comics. © 2012. All Rights Reserved. WB GAMES LOGO, WB SHIELD: ™ & © Warner Bros. Entertainment Inc. (s12)