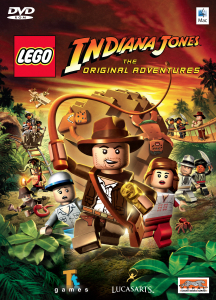 Products
Lego Indiana Jones 2 (Box): £13.99
Lego Indiana Jones (Box): £19.99

System requirements:
DVD drive
Mac OS X 10.4.10
1.8GHz Intel Mac Core Duo
6GB HDD
512MB RAM



Important: Does not work with macOS 10.15 (Catalina) and above

I agree with the
privacy policy
.
Lego Indiana Jones
The adventures of Indiana Jones - watch out and have the whip ready!
LEGO Indiana Jones: The Original Adventures follows Dr. Jones escapades through the jungles of South America to the mountaintops of India. Fans can build, battle and brawl their way through their favorite cinematic moments, from Indy's entanglements with snakes to his dashing boulder run. Of course, Hollywood's most iconic archeologist will whip through all the classic moments with the help of a host of supporting characters including Marion Ravenwood and Short Round. Players can also mix and match the body parts of more than 60 playable characters to create new heroes just as they could in the best-selling LEGO Star Wars games.
Features:
Tongue-in-cheek humor presents The Original Adventures in a manner only LEGO can whip up, with comical reinterpretations of classic Indiana Jones scenes and elements.
Use Indy's signature whip as a multi-purpose tool to attack, disarm, swing? across gaps, activate levers and? interact with a world of LEGO objects and puzzles.
For the first time, LEGO Indy characters are fully immersed in their environment; swim, climb, shimmy across rock ledges and pick up and carry objects.
Create unique playable characters like Sallah Scott or Mola Round by mixing and matching the LEGO body parts of all playable characters.
Cooperative gameplay encourages parents to share the legacy of Indiana Jones with their children in a fun and humorous way.