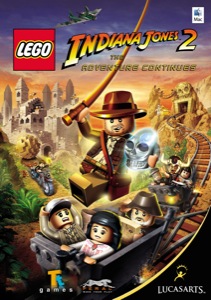 Products
Lego Indiana Jones 2 (Box): £13.99
Lego Indiana Jones (Box): £19.99

System requirements:
DVD drive
Mac OS X 10.6
1.4GHz Intel Mac Core Duo
8GB HDD
2048MB RAM
The following cards are NOT supported: NVIDIA 7xxx series and Intel GMA series.
Due to a driver issue, ATI Radeon 6xxx graphics cards are not currently supported for players who have OS X Lion 10.7.5 installed. Players using OS X 10.8 Mountain Lion are not affected.



Important: Does not work with macOS 10.15 (Catalina) and above

I agree with the
privacy policy
.
Lego Indiana Jones 2
The latest LEGO adventure for Indiana Jones
LEGO Indiana Jones 2: The Adventure Continues combines the fun and creative construction of LEGO bricks with the wits, daring and non-stop action of one of cinema's best loved adventure heroes. With a unique and hilarious take on all the Indiana Jones films - including for the first time ever Indiana Jones and the Kingdom of the Crystal Skull - LEGO Indiana Jones 2 follows Dr. Jones' escapades from the jungles of South America to the Peruvian Ruins and beyond.

Fans can experience the most authentic LEGO experience yet by designing and building their own levels brick by brick, and by fusing their levels with the ones in the game to create a custom experience. In LEGO Indiana Jones 2, everyone can build, battle and brawl their way through their favorite cinematic moments - or create their own.
Features:
Six enormous level hubs see you adventuring through the Kingdom of the Crystal Skull and scenes from the classic films.
Take control of over 60 characters, including Marion Ravenwood, Short Round, Mutt, Belloq, Dr Jones Sr., and of course, Indy.
New vehicles to help you through tricky terrain, including planes, boats, trucks, and mine carts!
Co-operative play allows a second player to drop in and out at any time.
Brand new level designer lets you build your own adventures, brick by brick!
Supports PS3 gamepads connected using bluetooth.
LucasArts and the LucasArts logo are registered trademarks of Lucasfilm Ltd. © 2008-2011 Lucasfilm Entertainment Company Ltd. or Lucasfilm Ltd. and ® or TM as indicated. All rights reserved. LEGO, the LEGO logo and the Minifigure are trademarks of The LEGO Group. © 2008-2011 The LEGO Group. All rights reserved. Mac and the Mac logo are trademarks of Apple Inc., registered in the U.S. and other countries. Feral and the Feral logo are trademarks of Feral Interactive Ltd.