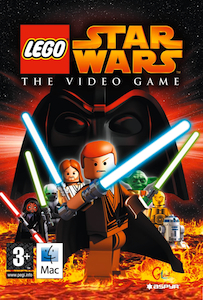 Products
Lego Star Wars 2 (Box): £13.99
LEGO Star Wars: The Complete Saga (Box): £13.99
LEGO Star Wars III: The Clone Wars (Box): £13.99
Lego Star Wars (Box): £3.99 (£14.95)

System requirements:
DVD drive
Mac OS X 10.4.0
1.7GHz G4
2GB HDD
256MB RAM
GeForce FX 5200/Radeon 8500 32MB VRAM



Important: Does not work with macOS 10.15 (Catalina) and above

I agree with the
privacy policy
.
Lego Star Wars
One of the World's Most Successful Film Series Meets One of the World's Favorite Toys

Play the whole story of Episode I: The Phantom Menace, Episode II: Attack of the Clones and Episode III: Revenge of the Sith - three movies in one game!

From Anakin Skywalker and Yoda, to Darth Maul and General Grievous, control over 30 of your favorite characters.
Features:
"Drop in/Drop out" two player co-operative play allows a second player to join in or leave the action whenever they want.
Use the Force to move and transform LEGO objects, overcome obstacles and defeat your enemies.
Authentic audio from Skywalker Sound brings the Star Wars experience to life.
Unique "Free Play" mode enables you to play with unlocked characters wherever you like, and switch between them at will.