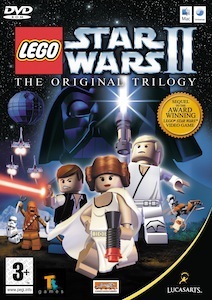 Products
Lego Star Wars 2 (Box): £13.99
LEGO Star Wars: The Complete Saga (Box): £13.99
LEGO Star Wars III: The Clone Wars (Box): £13.99
Lego Star Wars (Box): £3.99 (£14.95)

System requirements:
DVD drive
Mac OS X 10.4.0
1.7GHz G4
3.1GB HDD
512MB RAM
3D graphics card 64MB VRAM



Important: Does not work with macOS 10.15 (Catalina) and above

I agree with the
privacy policy
.
Lego Star Wars 2
Yet another brilliant game for Lego Star Warrior
In LEGO Star Wars II: The Original Trilogy, play through a fun Star Wars galaxy that combines the fun and endless customization of LEGO with the epic story, characters and action from the original Star Wars trilogy (Episode IV A New Hope, Episode V The Empire Strikes Back and Episode VI Return of the Jedi).

LEGO Star Wars II follows the Rebel Alliance's battle to dismantle the Galactic Empire and rebuild a galaxy in pieces. From Darth Vader's pursuit of Princess Leia aboard her blockade runner to a showdown on the reconstructed Death Star, the game includes all the family-friendly LEGO action that made LEGO Star Wars I such a success.

The game boasts two-player 'drop-in/drop-out' co-operative play throughout; and with the unique LEGO 'Free Play' mode, you may take both Light Side and Dark Side characters into unique situations.
Features:
Build and Ride! For the first time ever, build and ride vehicles such as landspeeders and mount creatures like the tauntauns of Hoth.
Mix and Match characters: Mix and match the LEGO body parts of more than 50 characters to create millions of unique Star Wars heroes like Yoda Kenobi and Leia Vader
Two-Player Fun: Cooperative gameplay encourages you to play through classic Star Wars scenes as a team.
Adaptive difficulty: The adaptive difficulty option creates more challenging gameplay for Jedi master gamers - the better you do, the tougher it gets.