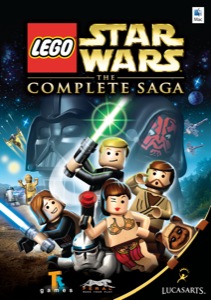 Products
Lego Star Wars 2 (Box): £13.99
LEGO Star Wars: The Complete Saga (Box): £13.99
LEGO Star Wars III: The Clone Wars (Box): £13.99
Lego Star Wars (Box): £3.99 (£14.95)

System requirements:
DVD drive
Mac OS X 10.5
1.4GHz Intel Mac Core Duo
1024MB RAM
File size: 5.0 GB (approx)



Important: Does not work with macOS 10.15 (Catalina) and above

I agree with the
privacy policy
.
LEGO Star Wars: The Complete Saga
Kick some bricks in I through VI.
Play through a fun Star Wars galaxy that combines the endless customization of LEGO with the epic story from all six episodes of Star Wars. This is the definitive LEGO Star Wars comprising the first two games and expanding them with new characters, enhanced visuals, and more bonus levels than you can shake a lightsaber at. LEGO Star Wars: The Complete Saga is a family-friendly game, which appeals to all ages. It is both funny and challenging: pick and choose your characters wisely to engage in combat, solve puzzles and work together as a team to defeat the dark side.
Features:
Updated graphics mean LEGO Star Wars has never looked so good!
Unlock more than 160 characters from the Star Wars movies, including 10 characters never seen before in the LEGO Star Wars games.
36 levels to explore.
Lots of surprises and funny moments, trademarks of developer TT Games' LEGO titles.
New playable characters include Aayla Secura, Lama Su, Captain Tarpals, R2-Q5, Plo Koon, Dexter Jettster, Pit Droid, Zam Wessell and Watto.
Upgraded Character Customizer adds all "Prequel Trilogy" characters and expands customization options, so you can create cross-Trilogy "mashup" characters like Han Windu or Lando Amidala.
Enhanced Force powers for both Jedi and Sith characters, including "Force Throw" and "Force Push."
New power-ups scattered throughout all levels of the game.
True co-operative multiplayer lets two players enjoy the fun together!
Ten new Bounty Hunter missions.