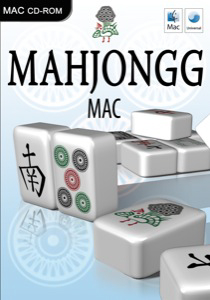 Products
Mahjongg Mac (Box): £19.99

System requirements:
Mac OS X 10.3.9
800MHz G4
128MB RAM
32MB VRAM



Important: Does not work with macOS 10.15 (Catalina) and above

I agree with the
privacy policy
.
Mahjongg Mac
An ancient Chinese board game for your Mac
Do you feel exhausted? Try to relax and simply let go at a game of the latest incarnation of the classic Chinese board game!

Experience the power of deduction, try to think strategic and test your fortune.
Many different surroundings and stone sets provide a lot of variety. The difficulty levels are adjustable to your personal liking.
Every single token is a handcrafted masterpiece. The backgrounds range from traditional Chinese to settings from the age of pirates, savannah, sports, music, space, horses and blooming gardens. There is even a special mode called "against the time" to provide extra challenges.
Mahjongg is a highly addictive classic - You just have to experience this high quality artwork by yourself!
Features:
8 different settings with appropriate tokens
8 different sets of tokens
Multilanguage - English and German
Adjustable difficulty level
100% free of violence
Hidden extras