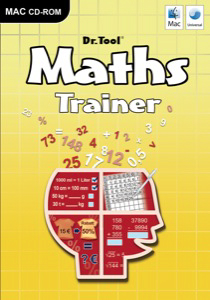 Products
Dr. Tool Maths Trainer (Box): £13.99

System requirements:
Mac OS X 10.3.9
Mac OS X 10.7
800MHz G4/ Intel Mac Core Solo
256MB RAM
32MB VRAM



Important: Does not work with macOS 10.15 (Catalina) and above

I agree with the
privacy policy
.
Dr. Tool Maths Trainer
Dr. Tool' Math Trainer: Math doesn't have to be boring!
How well do you handle math problems?

Calculating becomes fun (again) with "Dr. Tool® Maths Trainer". We certainly stuck to the approved concepts. There are three difficulty levels and there is also a training mode that sets you up to become ready for the tougher challenges.

Besides the first rules of arithmetic, you will be challenged with calculation of percentage, fraction and conversation of units. "Dr. Tool® Maths Trainer" does not only keep adults on the go - it is also the perfect addition for the education of your children.
Features:
Challenge and training mode
3 difficulty levels
Available statistics
Comprehensive evaluation of every game you played including your achievements, your performance and your efficiency