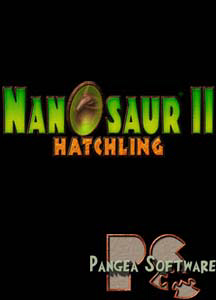 Products
Nanosaur 2 (download): £14.99

System requirements:
Mac OS X 10.2.8
700MHz G4
512MB RAM
64MB VRAM


I agree with the
privacy policy
.
Nanosaur 2
3D action with flying dinosaurs
Nanosaur 2 is a continuation of the original Nanosaur storyline, only this time you get to fly a pteradactyl who's loaded with hi-tech weaponry, and the game is much larger than the original 1998 Nanosaur game. In addition to the three level adventure mode where you blast enemy dinos and save eggs, there are also six two-player levels including racing, capture-the-flag, and battle.
Features:
Control a heroic pterodactyl as it loads up with advanced weapons and goes to war against an alien race, trying to destroy the dinosaur race
Soar, dive and swirl through gorgeous renderings of alien worlds - Incredibly designed
Face off against Rebel Nanosaurs armed with energy blasters, fragment grenades, heat-seeking missiles and more
Avoid powerful alien defenses like revolving gun towers, floating mines and laser-wielding robots
Collect power-ups & weapons that are scattered throughout the evil alien landscapes