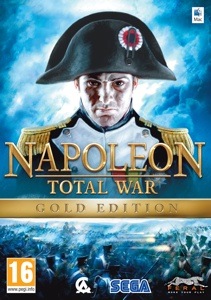 Products
Rome: Total War Gold Edition (Box): £14.99
Napoleon: Total War - Gold Edition (Box): £19.95
Total War: SHOGUN 2 (Box): £24.99
Empire: Total War - Gold Edition (Box): £29.99

System requirements:
DVD drive
Mac OS X 10.7
Mac OS X 10.8
2GHz Intel Mac Core Duo
30GB HDD
4096MB RAM
256MB VRAM
The following graphics cards are not supported: ATI X1xxx series, ATI HD2xxx series, Intel GMA series, NVIDIA 7xxx series and NVIDIA 8xxx series. The following cards require you to have 8GB of system RAM: Intel HD3000, NVIDIA 9400, Intel HD4000 and NVIDIA 320M.
Download version does not require a DVD drive.



Important: Does not work with macOS 10.15 (Catalina) and above

I agree with the
privacy policy
.
Napoleon: Total War - Gold Edition
Take command of Napoleons army in its greatest campaigns
Rewrite history in this sophisticated combination of real-time battle tactics and turn-based political strategy set against the turbulent backdrop of the Napoleonic Wars. Can you surpass the glorious achievements of history's greatest military commander?

Napoleon: Total War - Gold Edition for Mac challenges you to combine diplomatic cunning with strategic vision and military genius in order to lead your nation to victory across the campaign maps of Europe, the Middle East and North Africa.
Features:
Fight famous battles such as Austerlitz, the Battle of the Nile and Waterloo under the same conditions faced by Napoleon himself.
Command thousands of troops in enormous real-time land battles and naval engagements.
Plan and execute the strategy of a nation as you lead one of the great European powers across the turn-based campaign map.
Lead the forces of France or one of the Four Great Powers: Great Britain, Austria, Prussia and Russia, allied against it.
Forge alliances, negotiate trade routes and research new ideas and technologies to build an economic and military superpower.
Dominate LAN and online multiplayer modes: shape unique scenarios, enable drop-in battles and even fight entire campaigns against human opponents.
Napoleon: Total War - Gold Edition includes the main game, The Peninsular Campaign and three unit packs: the Imperial Eagle Pack, the Heroes of the Napoleonic Wars Pack and the Coalition Battle Pack.
© SEGA. Creative Assembly, the Creative Assembly logo, Total War, Napoleon: Total War and the Total War logo are registered trademarks or trademarks of The Creative Assembly Limited. SEGA and the SEGA logo are registered trademarks or trademarks of SEGA Corporation. All rights reserved. Developed for and published on the Mac by Feral Interactive Ltd. Mac and the Mac logo are trademarks of Apple Inc. registered in the U.S. and other countries. Feral and the Feral logo are trademarks of Feral Interactive Ltd. Without limiting the rights under copyright, unauthorized copying, adaptation, rental, lending, distribution, extraction, re-sale, renting, broadcast, public performance or transmissions by any means of this Game or accompanying documentation of part thereof is prohibited. All other trademarks and copyrights are the property of their respective owners. All rights reserved. Ship plans courtesy of the National Maritime Museum. Uses Miles Sound System. Copyright © 1991-2013 by RAD Game Tools, Inc. Portions of this software utilize SpeedTree® Technology (©2003-2007 Interactive Data Visualization, Inc.). SpeedTree® is a registered trademark of Interactive Data Visualization, Inc. All rights reserved.