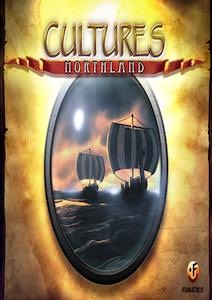 Products
Cultures: Northland (download): £13.99

System requirements:
Mac OS 9.0
Mac OS X 10.1
350MHz G3
192MB RAM
Download version requires an Intel Mac and Mac OS X 10.6 or better



Important: Does not work with macOS 10.15 (Catalina) and above

I agree with the
privacy policy
.
Cultures: Northland
The beginning of a fascinating journey
The story begins where the plot of "Cultures 2 - The Gates of Asgard" ended. After perilous adventures our four heroes defeated the Midgard serpent and thus saved the world. A great celebration began and everyone was happy and content. But everything has to come to an end sometime, and time to say farewell came faster than our friends wanted.
Hatschi, the brave Saracen, returned to his home village. Sigurd, the Frank hero, left the south and set for his way to beloved Franconia. Bjami and Crya, feeling more than just friendship for each other, returned back Byzantium to recover from the exertions of their adventure at the palace of Crya's father, the emperor of Byzantium.
But one day they were disturbed by a call for help from their friend Hatschi. Hatschi's homeland was plagued by mysterious monstrous serpent creatures, which spread chaos and destruction through the country. Without hesitatio Byjami and Crya hurried to help him and stumbled right into a new adventure, in which the sly god Loki will play an important role...

Loki, known from the Nordic agas as a versatile god of lies and weaver of many intrigues against his divine "colleagues", has been banned from Asgard by godfather Odin as a punishment for the trouble caused by the midgard serpent. Now Loki is plotting revenge and searching for a possibility to sneak back into Asgard and pay Odin back.
Using the pseudonym Ykol he worms into the confidence of Hatschi and our heroes and accompany them on their adventurous quest. All the time he is weaving a tightening web of clandestine intrigues in which our heroes will get entangles unsuspectingly - until the whole truth is revealed at the end of the campaign and a final showdown takes place in Odin's throne chamber...

But before this, the serpent plague must be vanquished, a miraculous amulet must be created, Sigurd's people have to be relieved of the wolf demo Fenris and his evil hordes, and our heroes have to traverse the underworld, free the abducted Crya, blow a magic horm, thaw some frozen gods and release Odin from a charming spell.
Features:
8 campaign Missions with several subquests and 8 single missions
4 heroes that join forces to fight the final battle
Over 30 different occupational groups, updated job and skills systems
Menus with different level of detail to fit each gamers needs and preferences
Highly detailed 3D environment
Extensive tutorial with step by step introduction into the game and its features
Improved AI (for the villagers as well as for other tribes)
3 difficulty levels to make the game fun for everybody from beginners to experts
Special effects like weather effects, fog, ghost units etc.