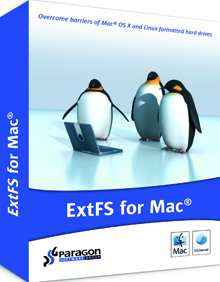 Products
Paragon ExtFS for Windows Professional (download): £12.95
Paragon ExtFS for Mac OS X 11 (download): £44.95

System requirements:
Large hard disks (up to 1,5 TB tested)
IDE, SCSI and SATA hard disks
FireWire (i.e. IEEE1394), USB 1.0, USB 2.0 hard disks
PC card storage devices (all types of flash memory, etc.)
No limitations to maximum file size
I agree with the
privacy policy
.
Paragon ExtFS for Mac OS X 11
Mac OS can now read AND write to ExtFS partitions
Overcome communication barriers between a Mac® OS X and Linux formatted hard drives. Simplify your data sharing and ability to transfer files with Paragon's new product ExtFS for Mac®. ExtFS for Mac® is a low-level file system driver which lets you work with Linux files on your Mac® OS X without any hassle. With ExtFS for Mac®, you are able to store and create files greater than 4 GB and have full read and write access to Linux-formatted partitions.
Paragon ExtFS for Mac® a low-level file system driver was specially developed to bridge file system incompatibility between Linux and Mac by providing full read/-write access to the Ext2 and Ext3 file systems under Mac® OS X.
Based on the Paragon UFSD TM (Universal File System Driver) technology our driver provides fast and transparent access to Ext2/3/4 partitions as if part of the native Mac operating system environment, achieving an unprecedented high level of performance (similar to HFS+). Mac OS X ® programs can process such on Ext2/3/4 partitions without any restrictions - browse contents, read and modify files, copy and create new files and folders, etc.
Features:
Easy to install: The driver is easily installed through a user-friendly wizard
Easy to use: Mount any Ext2 or Ext3 drives like it is part of the native Mac® OS X file system.
Auto-mount: Automatic mounting of Ext2 and Ext3 volumes
Full read/write access: Fast and transparent full read/write access of Ext2 and Ext3 Partitions under Mac® OS X
High Performance: Transfer rate is similar to the native HFS file system performance
Non roman characters supported: Including Chinese, Korean, Japanese and Russian characters
Additional disk utilities: Fully integrated in Mac Disk Utility which enables you to check/-repair Ext2/3 volumes and create/-format Ext2/3 volumes
Advanced support of the Ext2/3FS file system: Features to guarantee data consistency (such as Hardlinks, Symlinks)
supports Mac OS X 10.10 Yosemite