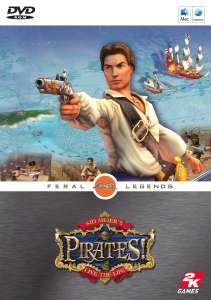 Products
Sid Meier's Pirates! (box): £10.49

System requirements:
DVD drive
Mac OS X 10.5.8
1.4GHz Intel Mac Core Solo
1.4GB HDD
512MB RAM
64MB VRAM
I agree with the
privacy policy
.
Sid Meier's Pirates!
Welcome to the Caribbean, Captain!
Avast!
Welcome to the Caribbean, Captain!

Do you think you've got what it takes to sail the seas? Can you plunder the Caribbean and keep your crew from mutiny? Can you fight on land and sea, dig up buried treasures, and be back in time to dance with the Governor's daughter? If so, a lifetime of adventure awaits you in Sid Meier's Pirates!

You begin Pirates! as a small boy whose life is turned upside down when his family are kidnapped and enslaved by the evil Marquis of Montalban. The boy escapes capture, but his family are seemingly lost forever.

Many years later you find yourself on a treacherous voyage, at the mercy of the waves, storms and the slave-driving captain of the ship. Sick of the treatment they have recieved at the hands of their employer, the crew mutiny, and name you as their new captain.

Captain of a ship, and leader of a crew, you find yourself anchored outside a small town... a lifetime of adventure awaits you! But what will you do first? Pirates' open-world gameplay lets you do whatever you want to do, whenever you want to do it. Feel like hunting for treasure? A trip to the town's bar might get you the maps you need. Want to blast an enemy ship to smitherines? Load up the cannons and head out to sea!

You might want to track down your missing family. Rumour has it that the Marquis of Montalban is still out there...
Features:
Experience the dangerous life of a pirate in this action-adventure game
Play a Pirate Captain in the 17th century Caribbean, amassing fortune and fame
Engage in fierce naval battles; battle, overtake, and command 27 ship types
Explore the high seas and exotic ports in a richly detailed 3-D world
Multiple quests through non-linear, open life timeline; enhanced sound effects