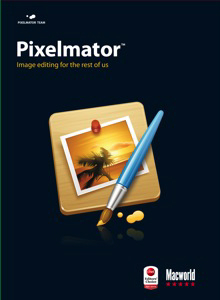 Products
System requirements:
Mac OS X 10.6
Mac OS X 10.7
Intel Mac Core Solo
1024MB RAM

Pixelmator
Creative image editing with professional tools
Pixelmator is a powerful, fast, yet easy-to-use image editor for Mac OS X. The innovative interface is designed specifically for people who work with images. Use its intuitive controls and layer-based image editing, colour management, filters, and special effects to quickly create exceptional imagery.

Pixelmator fosters creativity on demand by providing an innovative HUD interface and an amazing number of tools. Built on key Mac OS X technologies, Pixelmator is powerful and fast. This unique image editor combines ease-of-use with sophisticated control. You now have everything needed to create, edit, and professionally enhance your images. Layer-based image editing and special effects enable you to create stunning imagery. Pixelmator's powerful selection, painting, and retouching tools give you full control over your images. This user-friendly image editor has everything you need to achieve professional results. Add text to pictures, analyze colours, and crop, transform, rotate, and move elements or layers within your composition. Do more with your images -- professionally and quickly.

Features:
130+ filters and special effects
20+ tools, including crop, select and paint
16+ color correction tools
See results in real time
Layer-based image editing
Create editable text layers
Import Adobe® Photoshop® Brushes
Graphics tablet support enables you to draw by hand
Supports Adobe Photoshop files with layers
Photo Browser offers quick access to iPhoto® Library, events, albums, Smart Albums and Pictures folder
Use iSight® camera to add pictures to compositions
Includes Automator actions for converting, resizing, enhancing, adding special effects and transforming
Export to 100+ file formats
Save images as PSD, JPEG, TIFF, PNG, GIF, PICT, BMP, EPS, PDF and more