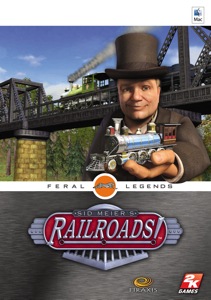 Products
Sid Meier's Railroads! (Box): £13.99

System requirements:
DVD drive
Mac OS X 10.6
1.8GHz Intel Mac Core Duo
1.5GB HDD
3000MB RAM
128MB VRAM
The following cards are NOT supported: ATI X1xxx series, NVIDIA 7xxx series and Intel GMA series.
Download version does not require a DVD drive.
I agree with the
privacy policy
.
Sid Meier's Railroads!
Build a railroad empire and shape a nation!
All aboard!

Build a railroad empire and shape a nation!

Lay track, route trains and watch the world come to life in this compelling mix of train set and business simulator. Become the ultimate railroad robber baron with the drive to shape a nation, build an empire and amass a fortune.

Spanning the history of the railroads from the steam engines of the 1830s to the bullet trains of today, Sid Meier's Railroads! for Mac is a bold re-imagining of the legendary Railroad Tycoon (1990), the game that launched the "tycoon" genre.
Features:
Steam across 16 maps and seven historical scenarios that cover over 150 years of American and European history.
Control 40 historically-accurate trains, from the 0-4-0 Grasshopper to the TGV bullet train, customizing them with your own colour schemes and liveries.
Engage in corporate warfare with rival tycoons, slick entrepreneurs and robber barons such as J. Pierpont Morgan and Cornelius Vanderbilt.
Choose your cargo wisely! Marry the supply of natural resources with the demands of industry to create a thriving economy.
Trade stock, build industries and bid for patents to steam ahead of the competition.
Build the model railroad of your dreams in "Train Table" mode, where your imagination is free from the pressures of finance or competition.
Sabotage your rivals and monopolise the industry in LAN multiplayer mode or online using GameRanger Technology.
© 2006-2012 Take-Two Interactive Software and its subsidiaries. All rights reserved. Sid Meier's Railroads!, 2K Games, the 2K logo, Firaxis Games, the Firaxis Games logo and Take-Two Interactive Software are all trademarks and/or registered trademarks of Take-Two Interactive Software, Inc. Uses Miles Sound System. Copyright ©1991-2012 by RAD Game Tools, Inc. Portions of this software are included under license: ©2006-2012 Scaleform Corporation. All rights reserved. Uses Gamebryo software ©1999-2012 Emergent Game Technologies. Mac and the Mac logo are trademarks of Apple Inc. registered in the U.S. and other countries. Feral and the Feral logo are trademarks of Feral Interactive Ltd. All other marks and trademarks are the property of their respective owners. All rights reserved.