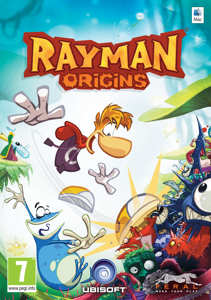 Products
Rayman® Origins (Box): £12.99

System requirements:
Mac OS X 10.8
Mac OS X 10.9
1.5GHz Intel Mac Core Duo
3.1GB HDD
4096MB RAM
256MB VRAM
The following graphics cards are not supported: ATI X1xxx series, ATI HD2xxx series, Intel GMA series, NVIDIA 7xxx series and NVIDIA 8xxx series.





Important: Does not work with macOS 10.15 (Catalina) and above

I agree with the
privacy policy
.
Rayman® Origins
Meet the new crazy
Rayman® returns in a magical adventure that brings back the spirited 2D platforming of his celebrated first outing. When a invasion of nightmarish monsters threatens the peace and tranquility of The Glade of Dreams, it's up to the limbless legend to rescue his idyllic home.

Push your platforming skills to the limit as you jump, swim, wall-run and hover through fantastical locations including underwater labyrinths, electrified stormclouds and the fiery stomach of a dragon chef. Dive into the adventure as Rayman and his friends with shared-screen co-operative play for up to four players.
Features:
Designed and directed by series creator Michel Ancel, Rayman Origins takes its cues from the 2D platforming that made the original game such a beloved classic.
Vine-swing through lush jungles, ride geysers across mystical mountains and bongo-bounce over deserts of musical instruments.
Fling Rayman's telescopic fists at a menagerie of monsters including fire-breathing chili peppers, grumpy zombie grannies and the prickly Psychlops.
Master magical moves including speedy wall-running and "HairlyCopter" gliding, then use them to discover new paths, bonus collectibles and hidden secrets.
Put your heroic moves to the test in epic boss battles as you evade the jaws of a carnivorous plant, outwit a deep-sea leviathan and dismantle an immense stone golem.
Fly through sprawling levels on the back of a giant "Moskito", sucking up airborne enemies and spitting them out as missiles.
Explore a wonderfully weird world brought to life with vivid, hand-drawn cartoon visuals and sparkling animations bursting with personality.
Save the world solo or team up with friends! Play as Rayman, his slap-happy best friend Globox or two Teensy wizards with shared-screen, drop-in/out local co-op for up to four players.
© 2011-2013 Ubisoft Entertainment. All Rights Reserved. The character of Rayman, Ubisoft and the Ubisoft logo are trademarks of Ubisoft Entertainment in the U.S. and/or other countries. Developed for and published on the Mac by Feral Interactive Ltd. Mac and the Mac logo are trademarks of Apple Inc. registered in the U.S. and other countries. Feral and the Feral logo are trademarks of Feral Interactive Ltd. All other marks and trademarks are the property of their respective owners. All rights reserved.