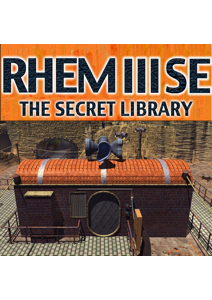 Products
Rhem IV SE - The Golden Fragments (download): £7.99
Rhem I SE - The Mysterious Land (download): £7.99
Rhem II SE - The Cave Special Edition (download): £7.99
Rhem III SE - The Secret Library (download): £7.99

System requirements:
Mac OS X 10.6 - macOS 10.14
Windows 7/ Windows 8 / Windows 10


I agree with the
privacy policy
.
Rhem III SE - The Secret Library
RHEM III SE - The Secret Library Special Edition
In this third installment of the popular RHEM series of intricate pure-puzzle first-person adventure games, the adventures of brothers Kales and Zetais continue in the mysterious land of RHEM. Set in a labyrinthine world of hidden rooms and secret passages, strange vehicles and odd machines, RHEM III opens the door to a new journey of mystery and adventure. In search for a certain black gem, hints hidden in a secret library and clues offered by the peculiar inhabitants of RHEM will assist you in your quest.

With an adventurous spirit, attentiveness and the ability to solve enigmas the player will slowly but surely unveil these new mysteries of RHEM. Again, everywhere on RHEM will you find hints and clues that should help you to solve most of the strange enigmas and puzzles that this third part of the series has to offer.

Features:
The sequel to popular RHEM I SE and RHEM II
First person graphic adventure
Non- violent gameplay
Mind bending puzzles