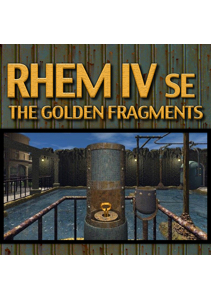 Products
Rhem IV SE - The Golden Fragments (download): £7.99
Rhem I SE - The Mysterious Land (download): £7.99
Rhem II SE - The Cave Special Edition (download): £7.99
Rhem III SE - The Secret Library (download): £7.99

System requirements:
Mac OS X 10.7
Windows XP / Windows Vista
Windows 7/ Windows 8 / Windows 10
1.7GHz Intel Mac Core Duo
1024MB RAM
256MB VRAM



Important: Does not work with macOS 10.15 (Catalina) and above


I agree with the
privacy policy
.
Rhem IV SE - The Golden Fragments
RHEM IV takes you into a huge, fantastic world full of strange vehicles and buildings, secret passages and doorways. A sense of adventure, logic, attentiveness and the ability to solve puzzles will help the player to slowly but surely unveil the mystery of this latest adventure in the land of RHEM. Everywhere on RHEM you will find hints or solutions that will help to unveil some of the mysteries of RHEM IV.

The game begins upon the discovery of a secret entrance to yet another undiscovered part of RHEM. There is a hidden transport system that leads to a second connection to the world outside. In order to activate this system you must find all nine fragments of the key to activate the system. Make your way past tunnels and secret passages; you will encounter many strange vehicles, unknown mechanisms and machines. You will also meet new characters, some of them might be helpful to solve some of the mysteries.
Features:
Non linear gameplay: a fascinating world full of riddles and enigmas
An abundance of exciting secret rooms and hidden paths
Family friendly and non-violent gameplay
SE edition features several new puzzles