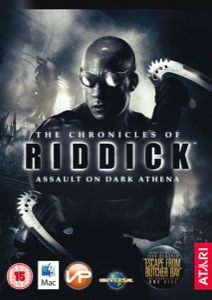 Products
The Chronicles of Riddick : Assault on Dark Athena (box): £29.95

System requirements:
DVD drive
Mac OS X 10.6
2.2GHz Intel Mac Core Solo
12.3GB HDD
1024MB RAM
GeForce 8600/Radeon HD2400
Mac OS 10.6.3 or higher
Intel CPU, 2.16 GHz or faster
1 GB RAM
GeForce 8600, Radeon 2400HD or newer, 256 MB
12 GB Hard Disk space
Internet connection for product registration
I agree with the
privacy policy
.
The Chronicles of Riddick : Assault on Dark Athena
First person action game from the perspective of Riddick
Be Riddick, the most ruthless criminal in the universe. In this latest Atari chronicle, Riddick has been captured by The Dark Athena, a mercenary ship hell-bent on eliminating him once and for all. Using his intense hand-to-hand combat skills, explosive firepower, and lethal stealth, Riddick must shut down the maniacal Captain Revas and her deadly crew. When Riddick steps into the darkness, no one is safe.

Before battling the Necromongers on Helion Prime -- even before the crash landing of the Hunter-Gratzner on a deserted planet in Pitch Black -- Riddick stalked his enemies across the universe. Play the award-winning Escape from Butcher Bay campaign, which has been re-mastered with top of the line graphics specifically for next-gen systems.

The new Assault on Dark Athena campaign takes place immediately following the events on Butcher Bay, as now Riddick must use his well-honed skills to evade capture by the forces of Captain Revas, and put an end to her evil plans once and for all.

With Chronicles of Riddick: Assault on Dark Athena you get two complete games!
Features:
Brutal and Graphic Executions: Dozens of graphically gorgeous ways to perform brutal instant executions on unsuspecting enemies
Advanced Melee Combat Mechanics: Well-developed hand-to-hand combat system combines traditional melee attacks with blocks, parries, and savage counter-attacks
-Intuitive Stealth System: An intuitive stealth system unique to the FPS genre adds a whole new dimension of strategy to traditional action and FPS game play
-Exciting Online Multi-player: Multi-player includes never before seen game modes as well as melee combat and stealth action
Developed by Starbreeze Studios: Acclaimed developers of the first Chronicles of Riddick: Escape from Butcher Bay title as well as other hit titles including The Darkness
Escape from Butcher Bay Game Included: A new, upgraded version of the award winning Xbox and PC title Chronicles of Riddick: Escape from Butcher Bay -- recognized as one of the best games of 2004 -- has been visually re-mastered for next-gen systems, and has been included free along with the stunning, new Dark Athena campaign