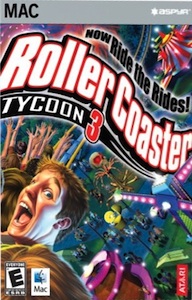 Products
Rollercoaster Tycoon® 3 Platinum (download): £13.99
Rollercoaster Tycoon® 3 Platinum (Box): £9.99 (£29.99)

System requirements:
DVD drive
Mac OS X 10.3.9
1GHz G4
800MB HDD
256MB RAM
GeForce FX 5200/Radeon 9000 32MB VRAM


I agree with the
privacy policy
.
Rollercoaster Tycoon
Live it up in your own theme park with rollercoasters and water slides.
RollerCoaster Tycoon 3 Mac is completely updated and redesigned to take the series to all-new heights. Featuring incredible 3D graphics and the exclusive new Coaster Cam, you can now see your park from any angle and ride the coasters you build. From street level to blimp, see your park pulse with fun and excitement like never before.
Features:
Ride the Rides with the Coaster Cam
Build rides easier with the enhanced user interface
Light up the night with the new park lighting system
View your park from any angle with complete camera control
See breathtaking park vistas including realistic sunsets, moonlight, weather patterns and more...
Create your own family members and friends and add them to your park
Respond to the individual likes and dislikes of kids, teens and adults
See fully animated individuals (including facial expressions!) exhibit intelligent behavior, both individually and as a crowd
Create pyrotechnic wonders with the new Fireworks MixMaster
Build your dream park with unlimited funds in "Sandbox" mode
Add music to rides and fireworks shows from your own mp3 library
Includes many "New-to-RollerCoaster Tycoon" rides and attractions
Design your park with 5 fun themes: Generic, Spooky, Western, Adventure and Sci-fi