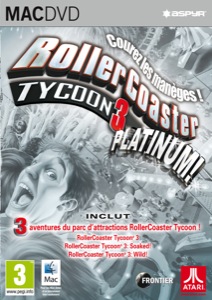 Products
Rollercoaster Tycoon® 3 Platinum (download): £13.99
Rollercoaster Tycoon® 3 Platinum (Box): £9.99 (£29.99)

System requirements:
DVD drive
Mac OS X 10.5
Mac OS X 10.7
1.8GHz Intel Mac Core Solo
2GB HDD
512MB RAM
GeForce 7300/Radeon X1600 128MB VRAM

I agree with the
privacy policy
.
Rollercoaster Tycoon® 3 Platinum
This bundle contains RollerCoaster Tycoon 3 and the expansions RollerCoaster Tycoon 3: Soaked! and RollerCoaster Tycoon 3: Wild!

RollerCoaster Tycoon 3 Mac is completely updated and redesigned to take the series to all-new heights. Featuring incredible 3D graphics and the exclusive new Coaster Cam, you can now see your park from any angle and ride the coasters you build. From street level to blimp, see your park pulse with fun and excitement like never before.

RollerCoaster Tycoon 3: Soaked! Mac is the expansion pack that lets you design, build and operate the ultimate summertime fun park with exciting water rides, the wettest, wildest attractions, and, of course, heart-stopping roller coasters.

RollcerCoaster Tycoon 3: Wild! Mac is an incredible expansion pack that brings the majesty of Nature to your amusement park. Now you can do more than just add water parks, you can create an incredible circus filled with animal attractions. Build animal enclosures, cages, and attractions like a choreographed lion tamer show set in an arena.
Features:
Features RollerCoaster Tycoon® 3
Ride the Rides with the Coaster Cam
Build rides easier with the enhanced user interface
Light up the night with the new park lighting system
View your park from any angle with complete camera control
See breathtaking park vistas including realistic sunsets, moonlight, weather patterns and more...
Create your own family members and friends and add them to your park
Respond to the individual likes and dislikes of kids, teens and adults
See fully animated individuals (including facial expressions!) exhibit intelligent behavior, both individually and as a crowd
Create pyrotechnic wonders with the new Fireworks MixMaster
Build your dream park with unlimited funds in "Sandbox" mode
Add music to rides and fireworks shows from your own mp3 library
Includes many "New-to-RollerCoaster Tycoon" rides and attractions
Design your park with 5 fun themes: Generic, Spooky, Western, Adventure and Sci-fi
RollerCoaster Tycoon 3: Soaked!
Soak the peeps and watch their hilarious behaviour! Dunk 'em, swirl 'em and knock 'em off their feet with water cannons
Choose from an amazing variety of water slides and water rides - then share them online
Plunge your coasters through thrilling tunnels and explore amazing underwater walkways
Take on fresh scenarios with water specific objectives and challenges
RollerCoaster Tycoon 3: Wild!
Nine freshly designed scenarios that expand gameplay beyond the call of the wild kingdom
Amazing never-before seen hardcore coasters fresh from the drawing boards of today's designers including splitting tracks and robot arms
Safari elements give players tools for building expedition rides where park visitors interact with over 20 species of wild (and not so wild) animals
Players interact with the animals, select their food and toys; tickle them or poke them awake; breed and trade them with other animal parks
Two more richly detailed themes for players - RCT3 amusement parks - Jungle and Prehistoric - including giant insects and animatronic dinosaurs!
Even more thrill rides; eight more coasters, eighteen 'flat' rides, brand new animal houses and four additional transport rides
Choreograph fun and entertaining performing animal programs, like the Lion Tamer Show, using the RCT3 MixMaster
Includes the biggest ever RCT3 transport ride: the Paddle Steamer, plus Elephant Rides, Safari SUVs and everglades speedboats
An occasional escaping animal causes chaos, and gives players a chance to use their tranquilizer dart shooting skills (but mind those park guests...)
Make even more cash from your park using new shops and ad billboards, which for the first time allow players to put their own original content in the game
Say 'hello' to more new characters - a new VIP, a new Animal Keeper staff member, and the RCT favorite 'Tiger' mascot