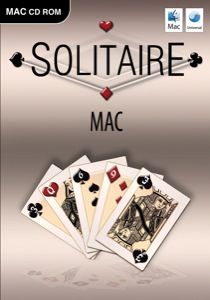 Products
Solitaire Mac (Box): £19.99

System requirements:
Mac OS X 10.4.11
Mac OS X 10.7
1GHz G4
256MB RAM



Important: Does not work with macOS 10.15 (Catalina) and above

I agree with the
privacy policy
.
Solitaire Mac
An extensive collection of 200 solitaire variants for the Mac
Solitaire Mac is an ample collection of close to 200 of the most famous solitaire variants, e.g. Bakers Dozen, Canfield, Carlton, Four Seasons, Freecell, Klondike or Yukon. Almost every little detail can be adjusted to your liking - different sets of backgrounds, surroundings and sets of playing cards.
The groundbreaking choice of playing cards included with the game cover everything a player could ever need: classic decks, very detailed decks in manga-style, decks in the shape of triangles and hexagons, circular shaped decks, etc. You may adjust the timings of the computer animations, like the time it takes the computer to pile up and move the cards. It is even possible to adjust the thoroughness of the visible AI, the computer can form perfect stacks or sloppy batches of cards! Comprehensive help is available for every card and it's usability during the game.
Features:
Almost 200 different kinds of the most famous solitaire variants
Interactive surroundings
Different sets of backgrounds and decks
Help function for each game